News
Uber IPO looks attractive to Morningstar
Uber, the largest ride-sharing provider outside of China, is tipped to boost market share on the back of growth in its food delivery service, despite failing to keep pace with rival Lyft.
Uber will float on Thursday and is valued at US$110 billion, or US$58 a share, according to Morningstar analyst Ali Mogharabi – about 23 per cent higher than the midpoint of its IPO range of US$44-US$50.
This implies a market cap of US$83 billion to US$95 billion for Uber, which has a 30 per cent market share. In Mogharabi's reckoning, Uber will be the leader in the US$411 billion total addressable ride-sharing market, excluding China, by 2023.
Uber continues to benefit from its first-mover advantage, network effect and data moat sources, and various strategic acquisitions, Mogharabi says. However, he sees modestly faster growth at Lyft, the No 2 player in the US, which went public last month and has a fair value estimate of US$72. It is currently trading at US$60.57.
"We see about 20 per cent upside in Lyft as we think the market is underestimating the market growth potential for ride-sharing and that narrow-moat Lyft has gained market share in the US," Mogharabi says.
"We like the strategies of both Uber and Lyft and would recommend shares of both names if Uber were to trade within its IPO range of US$44-US$50 and if Lyft continued trading at a 20 per cent or more discount to its US$72 fair value estimate."
Uber does however carry a high uncertainty rating because of regulatory and legal matters.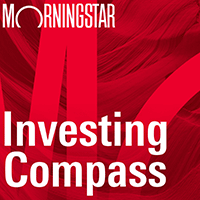 Listen to Morningstar Australia's Investing Compass podcast
Take a deep dive into investing concepts, with practical explanations to help you invest confidently.

However, Mogharabi says new Uber chief executive Dara Khosrowshahi, previously chief executive of travel fare aggregator Expedia Group, has "righted the ship" since the exit of Travis Kalanick in August 2017.
Uber Eats has appetite for growth
As well as ride-sharing, Uber pairs hungry people with restaurants via its Uber Eats platform, which launched in 2014.
Mogharabi says Uber – to which he assigns a narrow moat – has gained market share in food delivery faster than expected and the strong growth potential remains.
Uber Eats serves more than 220,000 restaurants in more than 500 cities globally in what Mogharabi estimates will be a US$191 billion market by 2023.
And by 2023, the company is tipped to grow its 11 per cent market share to 25 per cent, says Mogharabi.
Uber's on-demand technology platform could eventually be used for additional products and services, such as autonomous vehicles, delivery via drones, and Uber Elevate, which, as the firm refers to it, provides "aerial ride-sharing."
Founded in 2009 and headquartered in San Francisco, Uber Technologies, initially known as Ubercab, has become the largest on-demand ride-sharing provider outside of China.
Since 2016, the company has completed more than 10 billion trips in 63 countries. At the end of 2018, Uber had 91 million users who used the firm's ride-sharing or food delivery services at least once a month.
Uber's total net revenue is tipped to grow at a 19 per cent 10-year compound annual growth rate to over US$64 billion by 2028.
"We now estimate a US$650 billion total addressable market for Uber by 2022, which may grow to over US$1 trillion in 10 years, up from our July 2018 estimate of US$630 billion."