News
Why Uber Eats, Deliveroo are non-lethal threats to Domino's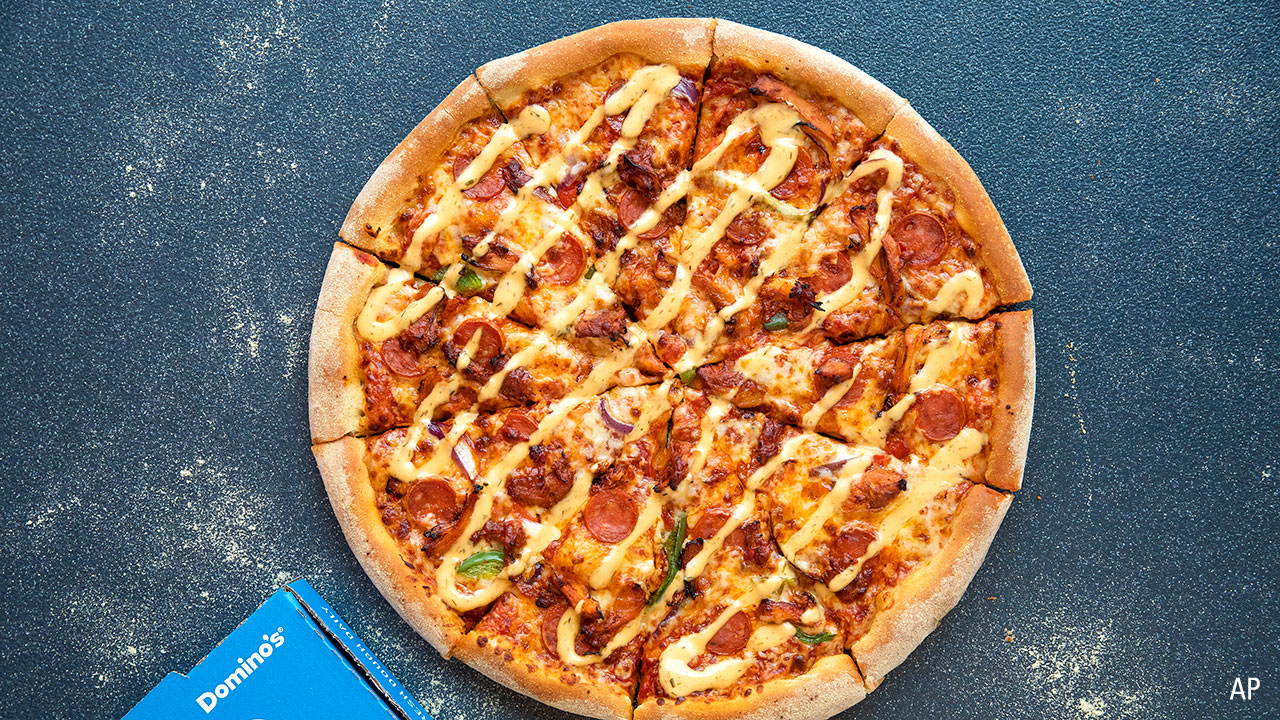 Domino's will prevail even as new entrants in online food delivery take a bite out of the pizza chain's leading market share, says Morningstar director of equity research, Johannes Faul.
Faul believes online takeaway food sales will more than double over the next nine years, as so-called "digital disrupters" Uber Eats and Deliveroo test Domino's (ASX: DMP) market leadership in pizza and online takeaway. Faul attributes the growing popularity of these online channels to:
added convenience
price transparency
extended product offerings.
Further threats are presented by the major supermarket chains and meal-kit providers, who have placed a great focus on the convenience of prepared-food.
"We project Uber Eats and Deliveroo should gain share in the online food delivery market, at the expense of Menulog and Domino's,"
he says in a special report on Australia's largest pizza chain.
"We expect Domino's share of the online market to continue to slip from 42.8 per cent in fiscal-2018 to 36.6 per cent in fiscal-2028."
However, Faul notes that unlike many Australian retailers caught out by the rapid expansion of e-commerce, Domino's has distinguished itself as a pioneer in online-delivery technology and innovation. It now holds a commanding 40 per cent market share of Australian digital food deliveries.
The internet of food
Faul believes Domino's growth target of 1,200 stores across Australia and New Zealand over the next decade remains on track, despite proliferating challengers.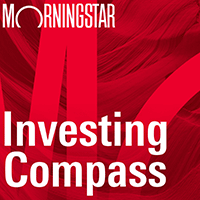 Listen to Morningstar Australia's Investing Compass podcast
Take a deep dive into investing concepts, with practical explanations to help you invest confidently.

"The strong growth of the 'Internet of Food' provides enough space for Domino's to expand, just at a slower rate," he says.
"We expect Domino's can still grow its Australian network sales at a compound annual growth rate of 9 per cent over the next decade, underpinned by 4 per cent same-store-sales growth and 4 per cent unit growth."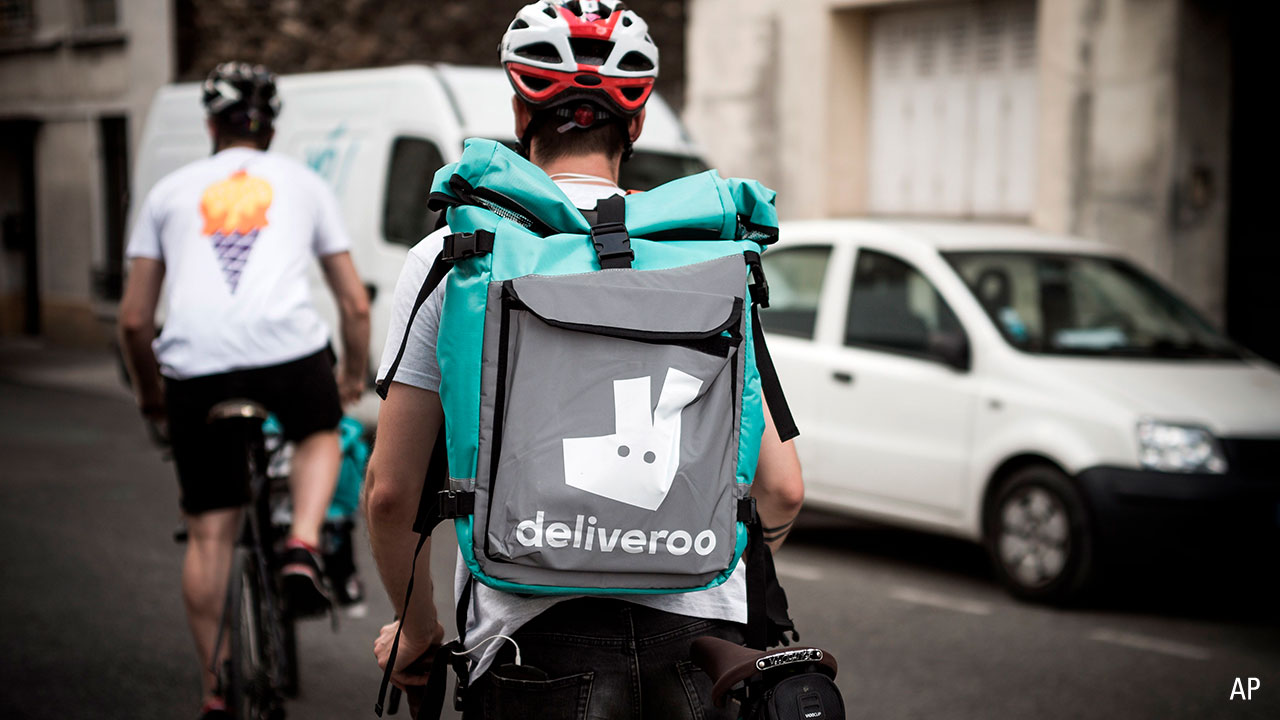 Faul adds that the track record of Domino's long-standing chief executive Don Meij provides "further confidence in management's ability to achieve its aspirational store-count targets".
Long-term investors, looking past short-term overhangs and sales growth volatility, can grab a slice of the action at an almost 30 per cent discount to Faul's $53 fair value estimate.
The stock was trading at just under $40 a share at midday on Tuesday 9 July.
Online takeaway food sales expected to rise
Online sales currently comprise around 10 per cent of the total takeaway food category, according to data from National Australia Bank and the ABS, which also indicates a 24.5 per cent CAGR over the last three years.
Traditional takeaway sales have increased at just 2.9 per cent CAGR over the same period.
Faul anticipates this trend to continue, and forecasts online takeaway food sales to rise from $1.8 billion to $4.7 billion – or 18.3 per cent of the takeaway market by fiscal-2028.
Takeaway comprised 11 per cent of Australian food turnover in fiscal-2018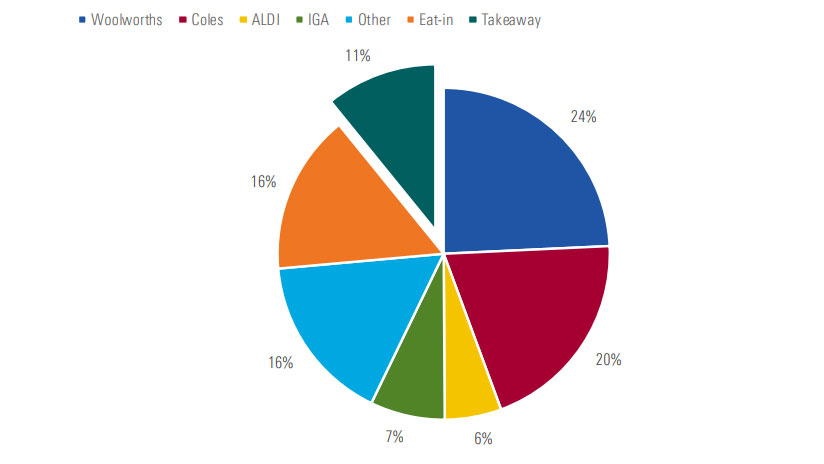 Source: Company filings, Australian Bureau of Statistics, Morningstar estimates
Online ordering has become a major feature Australia's takeaway food market in recent years.
Menulog was the first local entrant, in 2007 launching its online marketing and e-commerce platform for restaurants. As competition ramped up, British food delivery company Deliveroo launched in Australia in 2015, and Uber Eats entered in 2016.
German-owned Foodora also entered the Australian market, but has since closed.
Domino's doesn't use third-party delivery providers, which Faul sees as a key advantage in allowing it to control cooking time and food quality – both drivers of convenience and customer retention.
Lawsuit largely immaterial
Domino's was hit by a class action lawsuit in June, which claimed that the Australian pizza giant and its franchises systemically underpaid workers for five years.
Law firm Phi Finney McDonald alleges that most delivery and in-store Domino's workers were paid less than they should have from June 24, 2013 through January 24, 2018.
Faul says details are scarce, but estimates the effect will be immaterial.
"If Domino's is found guilty of misleading franchisees to underpay their employees, no settlement is negotiated, and the issue is system-wide, we estimate the effect of the damage at $114 million or $1.34 per share, representing 3 per cent of our $53 fair value estimate," he says.
Full analyst special reports and ratings are exclusive to Morningstar Premium members. Sign up for a free 4-week trial to access all Premium reports and benefits instantly.