News
"Wisely and slow; they stumble that run fast" - Shakespeare
Page 1 of 1
The U.S. Department of Commerce gave the green light on 16 February to proposed tariff increases of 24% on steel and 7.7% on aluminium imports. President Trump had 90 days to review the proposals and decide on the appropriate action. Wasting no time, he took only 13 days (including two weekends) and just for good measure increased the tariffs by 25% and 10% respectively.
Your Money Weekly
This week's issue is now available to download »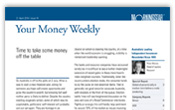 Gary Cohn has become the Administration's first tariff casualty. The President's top economic advisor strongly disagreed with the tariff hikes and resigned. To me, his body language in recent weeks suggested he was looking for a way out and the tariff hikes provided the trigger.
It appears the increases are unilateral, although there could be a partial backdown. Canada, a major exporter of both steel and aluminium to the U.S., appears to be the worst affected. This move will certainly have major implications for the ongoing North American Free Trade Agreement (NAFTA) negotiations. In fact, it looks as though NAFTA is Trump's target. As it turns out, while Canada is the largest exporter of steel to the U.S., it is also the largest importer of US steel, with a US$2bn balance in favour of the US. Did anyone in the Trump administration do a check before the shot was fired?
Whether this is the first shot in a global trade war is a moot point. But it has placed the world's trading nations on alert. The protection "for a long time" suggests President Trump is in for the long haul and retaliation in some form, whether financial or trade related, is likely. The direct implications on China, the country with the largest trade surplus with the U.S., of the increased tariffs on steel and aluminium imports are minor. China is the 10th largest steel exporter to the U.S. Not so for allies Canada and South Korea. Secondary, rather than primary retaliatory action is possible should cheap imports of steel and aluminium find their way into other countries from a spill-over effect.
The manufacturing cost base of all products using these two materials will ultimately increase to varying degrees and could put some upward pressure on inflation and bond yields. The knock-on effect in equities markets could be meaningful, should higher bond yields influence risk asset valuations. The performance of U.S. individual 401K's, recently highlighted by the President as being beneficiaries of share market advances, may become unwelcome collateral damage.
An example of direct retaliatory action, say from China, could be the switching of aircraft purchases from Boeing to Airbus. Morningstar's Chicago-based aviation analyst estimates some 20% of all Boeing deliveries over the next decade would normally be bound for Chinese airlines or lessors. He estimates the Chinese market alone accounts for US$1.3bn of Boeing's forecast 2018 operating profits. A switch to Airbus could put 20-25% of Boeing's future deliveries at risk, but it could be more as the Chinese order backlog is tilted toward the more-profitable 737 aircraft.
Market News and Views
Sign up today and receive our free Morning Note e-newsletter, daily in your inbox.
Indirect action could come in the form of reduced Chinese buying of U.S. treasuries, at a time of elevated supply from government issuance to fund a widening deficit and normalisation of the Federal Reserve's balance sheet. Resultant upward pressure on yields could have unpalatable consequences in financial markets, so closely followed by an adoring President.
Elsewhere, U.S. automakers are in the spotlight as they use significant quantities of steel and aluminium. But, Ford and General Motors use almost entirely U.S. steel and aluminium in their U.S. plants and their component suppliers also source in the U.S. So, the auto industry is not a beneficiary of higher tariffs, as higher input costs would be either absorbed impacting margins or if passed on affecting demand. Longer term the industry could be affected if a trade war caused GDP growth to contract, leading to higher unemployment and slowing auto sales.
President Trump has declared war on the U.S. trade deficit, which widened to US$566bn in 2017, with China's share of the deficit up 8% to US$375bn, representing 66% of the whole. Could a trade deficit reflect strong underlying domestic demand which sucks in imports at a faster rate than exports? Could it reflect demand from an increasing number of people in employment and paying taxes, as is the case with U.S. unemployment near historical lows? Could the U.S. economy satisfy this demand at acceptable prices? While negative net exports (trade deficits) are a drag on GDP growth there are other positive factors at work and the positives outweigh the negatives since the GFC-inspired recession. Demand will tend to seek out cost-efficient supply, unless protectionism intervenes. Heightened protectionism can support inefficiency and reduce productivity (the Trump put) and is not in the best long-term interests of a country.
The December deficit of US$53.1bn was the highest monthly shortfall since October 2008, as imports reached a new high driven by consumer goods, pharmaceuticals, cell phones and passenger cars – all consumer-related goods reflecting strong domestic demand and the high reading of consumer confidence. Helping contain the 2017 deficit was the lowest petroleum gap since 2003 of US$95.9bn, as exports surged to a record level. This gap will continue to shrink as U.S. shale production increases.
Australia's 4Q17 GDP
Despite all the fan fare over 400,000 plus jobs created in 2017 and corporate profits in the ascendency, the Australian economy continued to struggle in the December quarter. A disappointing, below consensus forecast reading of 0.4% growth quarter-on-quarter, and 2.4% for 2017, down from 2.9% in 2016. 3Q17 growth was revised up from 0.6% to 0.7%.
Consumer spending, the largest component of GDP, surprised on the upside with growth of 1%, rebounding from a weak 3Q17 read, assisted by pre-Christmas sales, traditional festive season shopping and the launch of Apple's iPhone X. This pace cannot be sustained. Those maxed out credit cards will need to be paid off, so don't expect an improvement from this segment in the current quarter. January's soft, below consensus, retail sales were an early sign of consumer behaviour in the current quarter.
A $2.3bn net exports deficit in 4Q17 was an 0.5% drag on 4Q17 GDP growth as coal and iron ore volumes were affected by adverse weather. The situation should correct in subsequent quarters as LNG exports ramp up, although 1Q18 iron ore exports will be below 4Q17 levels despite prices being a little higher. Private sector investment also disappointed but is likely a temporary setback and while government expenditure declined in the quarter, it is higher year-on-year and will be a source of growth in 2018 - fiscal policy at work. Despite employment growth, which creates higher overall income, productivity eased.
The Reserve Bank's GDP growth target for 2018 is 3%. Although early days, this looks a stretch as I question the ability of the household sector to provide the support required to achieve the target. An increase in official interest rates is still some time off.
Inflation surging in the wrong place
Inflation remains stubbornly stuck below patient central bank targets. While traditional measures of inflation, the Consumer Price Index, whether headline or core, or the Federal Reserve's favourite the core personal consumption expenditure (PCE) indicator are anchored, there is rampant inflation in the funding of retirement.
Jim Grant, the publisher of the respected Grant's Interest Rate Observer, believes central banks are responsible for low conventional inflation due to the creation of record levels of credit and liquidity in the post GFC era. But, on the other side of the coin they have created a less desirable form of inflation – "a huge inflation in the cost of retirement". Interest rates at 6% provided a sufficient annual return on $1m to live comfortably and securely. Not so with term deposit rates in Australia around 2.5%, less elsewhere, and the gap begging the investment in risk assets. More risk taking is required to earn the increasing cost of retirement. This is not the correct or safest investment profile for the fastest growing segment of the population.
Corporate tax debate
The discussion on lower corporate tax rates hit another low at The Australian Financial Review Business Summit. I was not in attendance and therefore reliant on hopefully accurate reporting. From someone who should know better, BHP Billiton's CEO Andrew Mackenzie stressed tax cuts would make marginal projects more appealing. In my opinion, no investment should be made that is reliant on tax. Why? Because they are at the whim of government and it can't be trusted. That alone should raise cautionary hairs. Marginal projects are marginal projects and if they need the support of a lower tax rate to get them over the line, they should be trashed before shareholder's capital is again wasted.
Model Income Equity Portfolio
Due to space constraints and the need to get company reports published the monthly update has been posted online.
Peter Warnes is Morningstar's head of equities research. Any Morningstar ratings/recommendations contained in this report are based on the full research report available from Morningstar.
---

Your feedback on this week's Overview is always welcome. Send your comments to YMW@morningstar.com. We'd love to hear from you.
---
© 2018 Morningstar, Inc. All rights reserved. Neither Morningstar, its affiliates, nor the content providers guarantee the data or content contained herein to be accurate, complete or timely nor will they have any liability for its use or distribution. This information is to be used for personal, non-commercial purposes only. No reproduction is permitted without the prior written content of Morningstar. Any general advice or 'class service' have been prepared by Morningstar Australasia Pty Ltd (ABN: 95 090 665 544, AFSL: 240892), or its Authorised Representatives, and/or Morningstar Research Ltd, subsidiaries of Morningstar, Inc, without reference to your objectives, financial situation or needs. Please refer to our Financial Services Guide (FSG) for more information at www.morningstar.com.au/s/fsg.pdf. Our publications, ratings and products should be viewed as an additional investment resource, not as your sole source of information. Past performance does not necessarily indicate a financial product's future performance. To obtain advice tailored to your situation, contact a licensed financial adviser. Some material is copyright and published under licence from ASX Operations Pty Ltd ACN 004 523 782 ("ASXO"). The article is current as at date of publication.