Easy-to-use, modern financial planning software to power your advice business
Take your client service to the next level with AdviserLogic

Already have an account? Sign in.
Focus on your clients, not your technology
It takes a lot of time and energy to run an advice business. Regulatory changes, rising business costs and complex technology can distract you from consistently delivering the quality of service you want to provide to your clients. AdviserLogic can help you optimise your business and refocus on delivering exceptional advice experiences.
Streamline your advice process
Discover more efficient ways to run your business, deliver advice and build trust with your clients. Provide exceptional client experiences that grow your business and put more people on the path to prosperity.
Research and build portfolios
Backed by Morningstar's extensive data and research – analyse portfolios, research investments and substantiate advice to help your clients reach their goals.
Enhance client engagement
Smart tools dramatically reduce the time needed to learn about your clients and think through their goals, helping you engage meaningfully and efficiently.
Ready to see for yourself?
Discover what AdviserLogic can do for you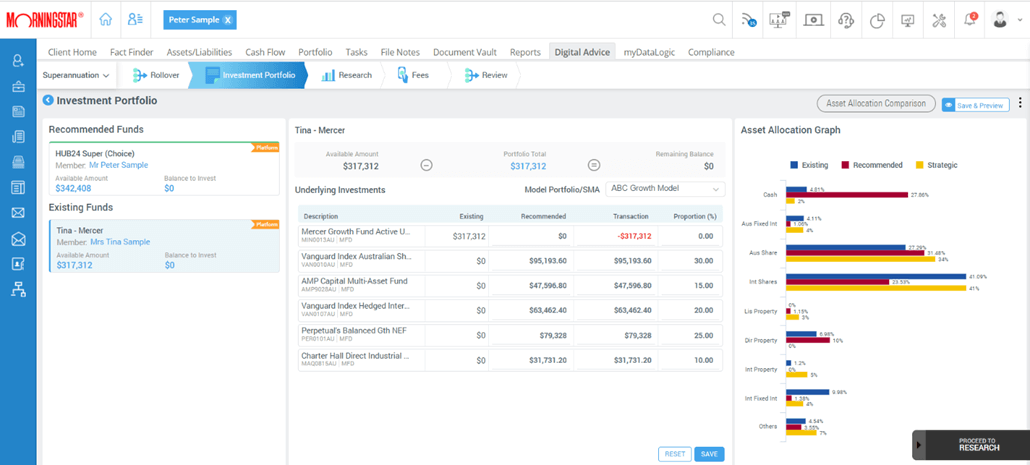 Efficient and engaging advice documents
Select pre-built strategies, compare products and generate a statement of advice within a single guided workflow. Simplifying the complex and bringing data to life with elegant, easy-to-digest reports and visualisations. AdviserLogic guides you through the required steps to help address compliance requirements to save significant time in generating and presenting engaging advice to your clients.
---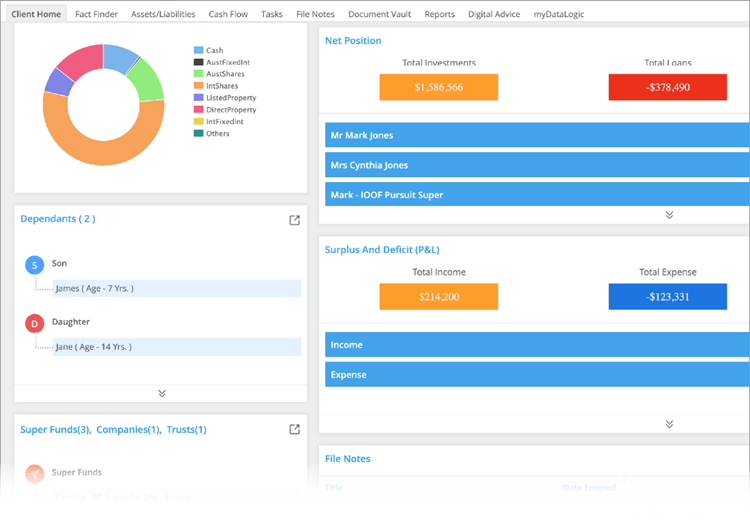 Powerful technology and reporting
AdviserLogic's CRM capability enables you to run your office from a single application, designed by advisers for advisers. Integrate client data from platforms, funds, life insurers and banks – streamlining your reporting and helping you engage with your client base.
---

Built-in compliance support
Consolidate client records and file notes in one place to simplify and strengthen your record keeping. You can also integrate client service delivery with our revenue management system, and leverage Morningstar data research reports to substantiate your advice.
---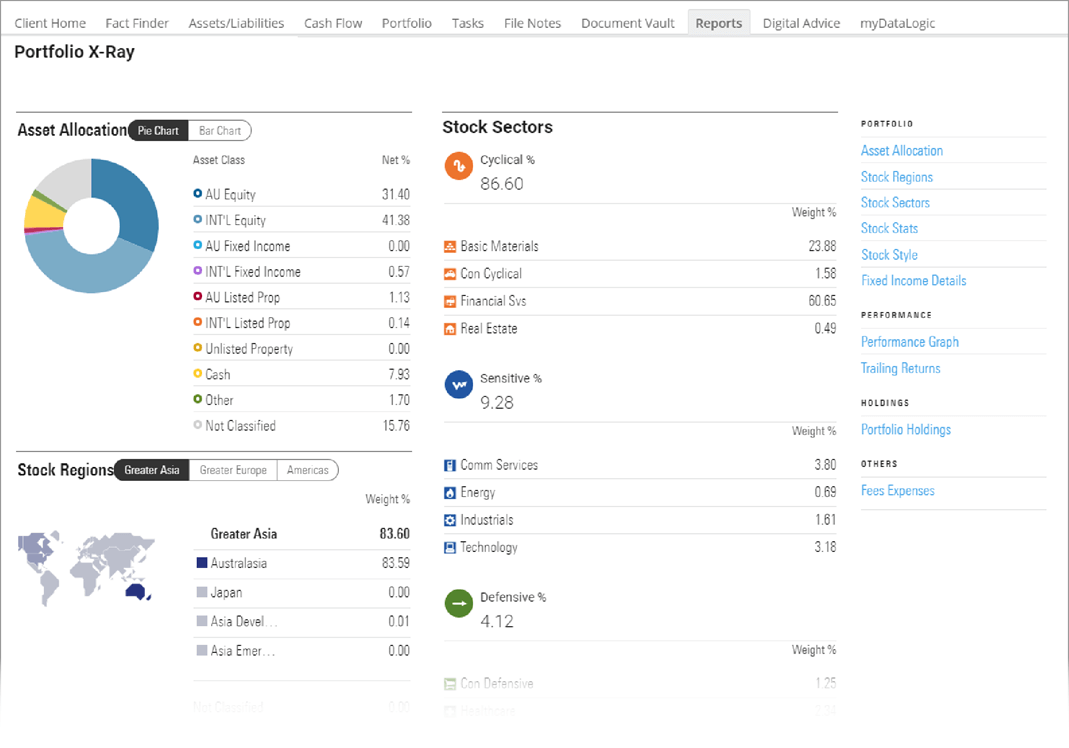 Backed by the trusted Morningstar brand
AdviserLogic is backed by Morningstar's extensive research and data – seamlessly connecting with goal setting, risk assessment and investment planning to help your clients reach their goals.
---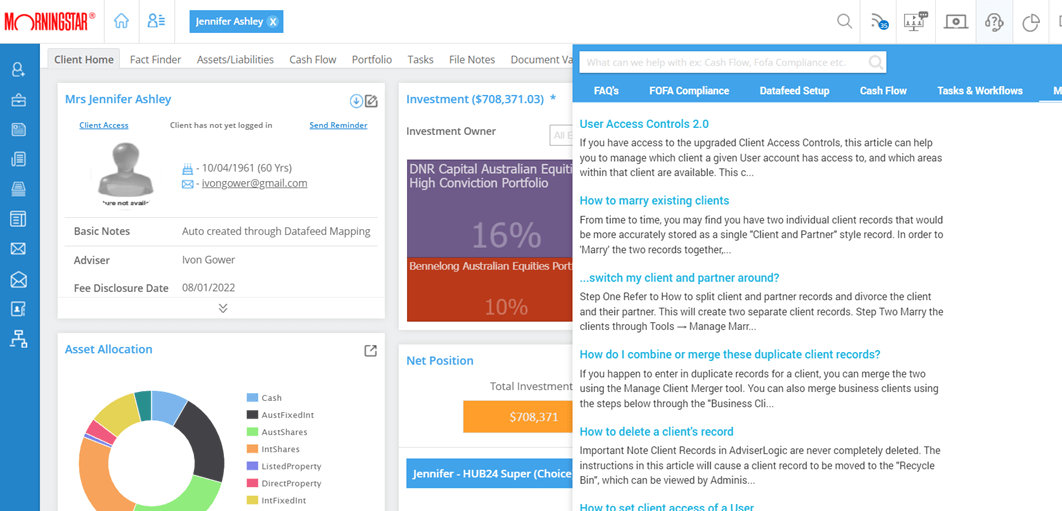 Onboarding and ongoing customer support
We offer robust training and outstanding support through our local teams in Australia and offshore teams in India. Our dedicated customer support team can be reached by phone, email or in person to help optimise your software, train new users and troubleshoot any issues.
---
Ready to see for yourself?
Discover what AdviserLogic can do for you
Get the most out of AdviserLogic
Dedicated Support
Our support teams will guide you through product set-up. Afterwards, they remain available to answer all your questions.
Setting You Up For Success
Get product walk throughs and time-saving tips with regular webinars hosted by our customer success team.
Manage Revenues
Integrate our revenue management feature to efficiently track and monitor payments.
Local Team of Specialists
Maximise your subscription with our team of product, industry and customer success specialists based in Sydney, Melbourne and Brisbane.
Independent Investment Research
Power your practice with a subscription to Morningstar's market leading research, recommendations, and reports.
Seamless integrations with your existing systems
Integrate your existing systems and third-party business applications using our open APIs and connect to over 2,000 applications with our Zapier integration. Our platform fully integrates with various third-party data feeds and applications to support the way you want to work.
Investment and insurance data feeds
See what our clients are saying about AdviserLogic
Conaill Keniry, Financial Adviser | Director – What If Advice
"Unfortunately, we spend 80% of our time doing paperwork and 20% of our time actually talking to and helping clients. We were able to use AdviserLogic to do our own plans which really cut down the cost of running a business and enabled us to take control of the full advice process."
Stephanie Ferguson, Financial Adviser | Partner – Webster's Wealth Partners
"We have been using AdviserLogic for about 3 years and one of the unique ways that we use it in our practice is in the pre-engagement stage with new clients. It can be really powerful to use the Cashflow tool to basically just build out their existing situation so their status quo, helping them to understand the cashflow and helping them to understand where their money goes."
Ready to see for yourself?
Discover what AdviserLogic can do for you