News
Track and monitor your investments
Morningstar's Portfolio Manager allows users to create multiple watch lists and transaction portfolios to track security prices, company news and investment performance. The tool is fully integrated with Morningstar's data and research and allows users to easily obtain the latest analyst reports on holdings.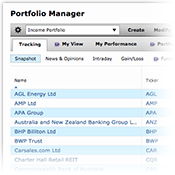 ---
Morningstar's Portfolio X-Ray provides advanced analysis of portfolios through detailed reporting on asset allocation across markets, sectors and styles.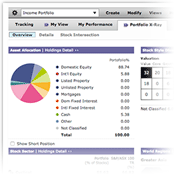 ---
Morningstar's Stock Intersection is a tool that is specially designed for managed fund investors. A key input into portfolio construction decisions, the tool provides a look through to the underlying holdings in each managed fund to enable investors to track asset allocation across a portfolio.