Power your adviser network with Licensee Solutions
Centralised network monitoring and compliance solutions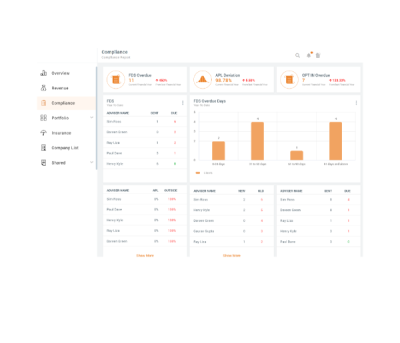 A complete technology ecosystem
Our end-to-end technology solutions help you run an efficient and compliant license. Our solutions support your business across research and investments, revenue and client management, network monitoring and financial planning, so your advisers can focus on client relationships.
Ensure Compliance
Use our dashboard and remote monitoring tools to proactively identify regulatory issues.
Increase Efficiency
Track and monitor payments easily with our revenue management feature.
Effective Communication
Share instant updates, templates, portfolios and operating standards with your network.
Get the most out of Licensee Solutions
Dedicated Support
Our support teams will guide you through product set-up. Afterwards, they remain available to answer all your questions for you and your advisers.
Setting Your Network Up For Success
Get your adviser network trained on the latest features with product walkthroughs and regular webinars hosted by our customer success team.
Adviser Training
Our e-learning modules are available for your advisers to get trained at their own pace.
Already a user? Sign in
Local Team of Specialists
Maximise your investment with access to our team of product, industry and customer success specialists based in Sydney, Melbourne and Brisbane.
Independent Investment Research
Power your adviser network with a subscription to Morningstar's market leading research, recommendations, and reports.
Award-Winning User Interface
We've won Investment Trends' awards for the last 5 years. We are constantly working to deliver the best product experience.
Seamless integrations with your existing systems
Integrate your existing systems and third-party business applications using our open APIs and connect to over 2,000 applications with our Zapier integration. Our platform fully integrates with various third-party data feeds and applications to support the way you want to work.
Investment and insurance data feeds
Ready to see for yourself?