Property outlook: supply squeeze to drive rents higher
Rising interest rates will continue to put pressure on house prices in 2023, but a worsening supply crunch is expected to push rents higher.
Australia is in the midst of a rental crisis that looks to get worse in 2023, property experts have warned, as new supply fails to keep up with demand. 
And with property prices expected to fall through 2023, a new outlook report by property consultancy group Knight Frank anticipates property investors will increasingly shift their focus from capital gains to rental returns. 
Inner-city rental markets to tighten
According to Corelogic, the combined capital city rental vacancy rates finished the year at 1.2% - a record low - ranging from 0.4% in Adelaide to 1.8% across Darwin. Advertised rents on property portal realestate.com.au up more than 10% over the year to the September quarter 2022.
Surging property prices pushed gross rental yields lower in 2022, but as prices fall and rents rise, that trend is reversing.
PropTrack director of economic research Cameron Kusher says returning overseas migration and a reversal of the pandemic-driven sea- and tree-change movement will continue to squeeze inner-city markets. 
"We've seen the strength in rental demand shift from the regional areas that were so popular during the early part of the pandemic back to the major capital cities as they come back to life," Mr Kusher says. 
"With demand for inner city rentals expected to rise further over the coming year, we expect rents will continue to see larger increases."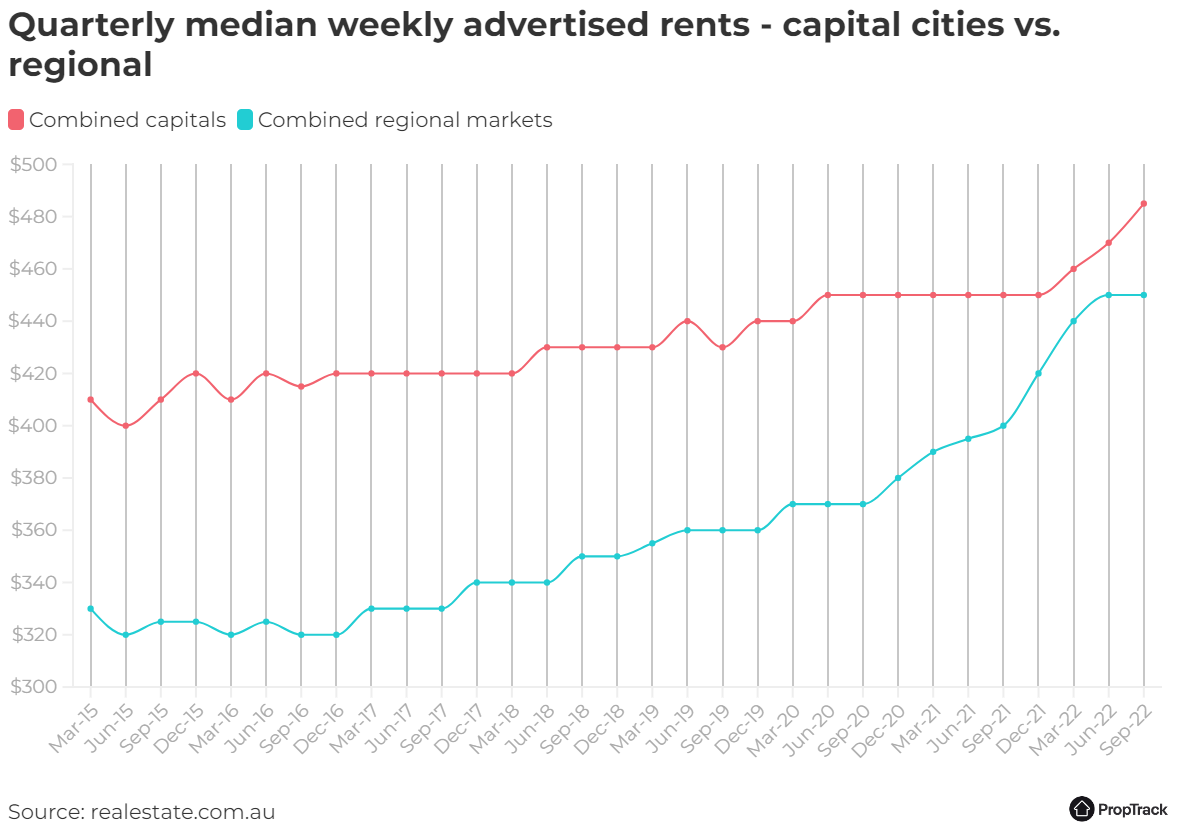 Exacerbating the supply-demand imbalance was an exodus of property investors in recent years, Mr Kusher says, with many selling up or sitting on the sidelines during the pandemic. 
"With the share of new lending to investors continuing to slide and higher interest rates greatly reducing the capacity for borrowers to access an additional mortgage, it seems unlikely there will be a significant change in rental supply in 2023." 
For property investors, Mr Kusher says the limited supply of stock coupled with strong demand and falling property prices is pushing up rental yields.
Although it's worth noting that rising interest rates also mean a higher cost of debt, which will cut into the net rental returns for investors. 
Focus shifts from capital gains to rental return

According to the Knight Frank 2023 Outlook Report, the rental market is expected to endure double-digit price growth in 2023 in 11 of the 14 major residential markets.
At the same time, economists at the big four banks are forecasting peak-to-trough property price declines of up to 20%, before recovering in 2024. 
That will encourage more investors to return to the market, it says. 
"Whilst the focus has come off capital value growth, sustained rental growth has allowed for more attractive gross rental yields to emerge," the report noted. 
"With further rental growth expected, rental yields for investors will continue to shift up over the 12 months and this will help restore investor demand and, over time, boost the development pipeline."
Knight Frank says the supply crunch has been caused by three key reasons:
Sustained population growth, up by 4.6% over the past five years, has been augmented by a radual rise in the proportion of households renting.
New dwelling construction has fallen by 17.8% over the past five years
Strong price rises during the pandemic saw many investors sell their rental properties, while recent severe weather events have also taken homes offline and removed from rental pools across the country.
"The combined impact of these forces has been to severely restrict the supply of rental accommodation and place significant upward pressure on rents," the report says. 
Property prices continue to fall

While asking rents rise, property prices have capped off the weakest calendar year since the global financial crisis.
Corelogic's Home Price Index, released Tuesday, showed home values fell a further 1.1% nationally in December, to be 5.3% lower over 2022.
Tim Lawless, research director at Corelogic says despite the downturn across many areas of the country, housing values generally remain well above pre-COVID levels.
"Melbourne is the only capital city where the current downwards trend is getting close to wiping out the entirety of COVID gains, with dwelling values only 1.5% above March 2020 levels," Mr Lawless said.
Annual falls were largest in Sydney (-12.1%) and Melbourne (-8.1%) where conditions peaked early in the year. Prices also fell in Hobart (-6.9%), the ACT (-3.3%), and Brisbane (-1.1%), while three capitals saw values rise over the year: Adelaide (10.1%), Darwin (4.3%), and Perth (3.6%).
Since the price peak recorded in May - when the RBA began raising the cash rate at the fastest pace in decades - home values have fallen by 8.2%.