Equity Research Methodology
We believe that a company's intrinsic worth results from the future cash flows it can generate. The Morningstar Rating for stocks identifies stocks trading at a discount or premium to their intrinsic worth--or fair value estimate, in Morningstar terminology. Five-star stocks sell for the biggest risk-adjusted discount to their fair values, whereas 1-star stocks trade at premiums to their intrinsic worth.
Four key components drive the Morningstar rating:
our assessment of the firm's economic moat;
our estimate of the stock's fair value;
our uncertainty around that fair value estimate, and;
the current market price.
This process ultimately culminates in our single-point star rating. Underlying this rating is a fundamentally focused methodology and a robust, standardised set of procedures and core valuation tools used by Morningstar's equity analysts. In this document, we provide a detailed overview of how the Morningstar Rating for Stocks is derived, and also outline the analytical work that feeds into our coverage of stocks.
Exhibit 1: Morningstar Research Methodology
---

---
Morningstar's Economic Moat™ Rating
The concept of an economic moat plays a vital role not only in our qualitative assessment of a firm's long-term investment potential, but also in the actual calculation of our fair value estimates. An economic moat is a structural feature that allows a firm to sustain excess profits over a long period of time. We define excess profits as returns on invested capital, or ROICS, above our estimate of a firm's cost of capital, or WACC (weighted average cost of capital).
Without a moat, profits are more susceptible to competition. Companies with a narrow moat are those we believe are more likely than not to achieve normalised excess returns for at least the next 10 years. Wide-moat companies are those in which we have very high confidence that excess returns will remain for 10 years, with excess returns more likely than not to remain for at least 20 years. The longer a firm generates economic profits, the higher its intrinsic value.
We believe low-quality, no-moat companies will see their normalised returns gravitate toward the firm's cost of capital more quickly than companies with moats. We have identified five sources of economic moats: intangible assets, switching costs, network effect, cost advantage, and efficient scale.
Exhibit 2: Measuring a Moat
---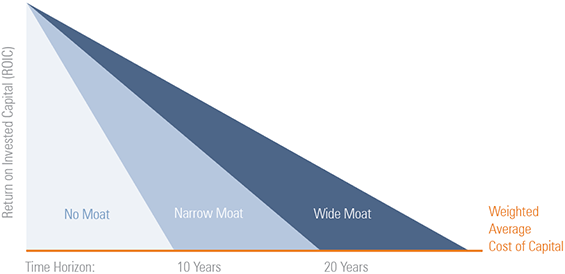 ---
Determining Fair Value
At the heart of our valuation system is a detailed projection of a company's future cash flows, resulting from our analysts' independent primary research. Analysts create custom industry and company assumptions to feed income statement, balance sheet, and capital investment assumptions into our globally standardised, proprietary discounted cash flow, or DCF, modeling templates. We use scenario analysis, in-depth competitive advantage analysis, and a variety of other analytical tools to augment this process.
The Uncertainty Rating
Morningstar's Uncertainty Rating captures a range of likely potential intrinsic values for a company and uses it to assign the margin of safety required before investing, which in turn explicitly drives our rating system. The Uncertainty Rating represents the analysts' ability to bound the estimated value of the shares in a company around the Fair Value Estimate, based on the characteristics of the business underlying the stock, including operating and financial leverage, sales sensitivity to the overall economy, product concentration, pricing power, and other company-specific factors.
Our uncertainty ratings are low, medium, high, very high, and extreme. With each uncertainty rating is a corresponding set of price/fair value ratios that we use to assign star ratings, as shown in the graph.
Exhibit 3: Morningstar Equity Research Star Rating Methodology
---
---
Generating the Morningstar Rating for Stocks
Once we determine the fair value estimate of a stock, we compare it with the stock's current market price on a daily basis, and the star rating, is automatically re-calculated at the market close on every day the market is open.
Our analysts keep close tabs on the companies they follow, and, based on thorough and ongoing analysis, raise or lower their fair value estimates as warranted. Furthermore, we would expect our fair value estimates to generally rise over time, due to the time value of money. Specifically, over the course of a year, barring major changes to analyst assumptions, we would expect our fair value estimates to increase at the level of our estimate of a firm's cost of equity (net of shareholder returns attributed to dividends). So, for a stock that pays no dividends with a $100 fair value estimate today and an estimated 10% cost of equity, we would expect our fair value estimate to rise to $110 in 12 months, all else equal.
It is also worth noting that there is no predefined distribution of our ratings. That is, the percentage of stocks that earn a 5-star rating can fluctuate daily, so the ratings, in the aggregate, can serve as a gauge of the broader market's valuation. When there are many 5-star rated stocks, the stock market as a whole is more undervalued, in our opinion, than when very few companies garner our highest rating.
Our star ratings are guideposts to a broad audience and individuals must consider their own specific investment goals, risk tolerance, tax situation, time horizon, income needs, and complete investment portfolio, among other factors.
: We believe appreciation beyond a fair risk-adjusted return is highly likely over a multiyear time frame. Scenario analysis developed by our analysts indicates that the current market price represents an excessively pessimistic outlook, limiting downside risk and maximising upside potential. This rating encourages investors to consider an overweight position in the security relative to the appropriate benchmark.
: Appreciation beyond a fair risk-adjusted return is likely, in our opinion. This rating encourages investors to own the firm's shares, possibly overweight relative to the appropriate benchmark after fully considering more attractively priced alternatives, such as our 5-star ratings.
: Indicates that we believe investors are likely to receive a fair risk-adjusted return (approximately cost of equity). Concentrated portfolios might consider exiting these positions if more attractively priced alternatives are available.
: We believe investors are likely to receive a less than fair risk-adjusted return and should consider directing their capital elsewhere. Securities with this rating should generally be underweight, assuming less expensive alternatives are available for the portfolio strategy being employed.
: Indicates a high probability of undesirable risk-adjusted returns from the current market price over a multiyear time frame, based on our analysis. Scenario analysis by our analysts indicates that the market is pricing in an excessively optimistic outlook, limiting upside potential and leaving the investor exposed to Capital loss. This rating encourages investors to strongly consider exiting portfolio positions in the security in nearly all strategies.