News
Revealed: Top ASX trades of 2021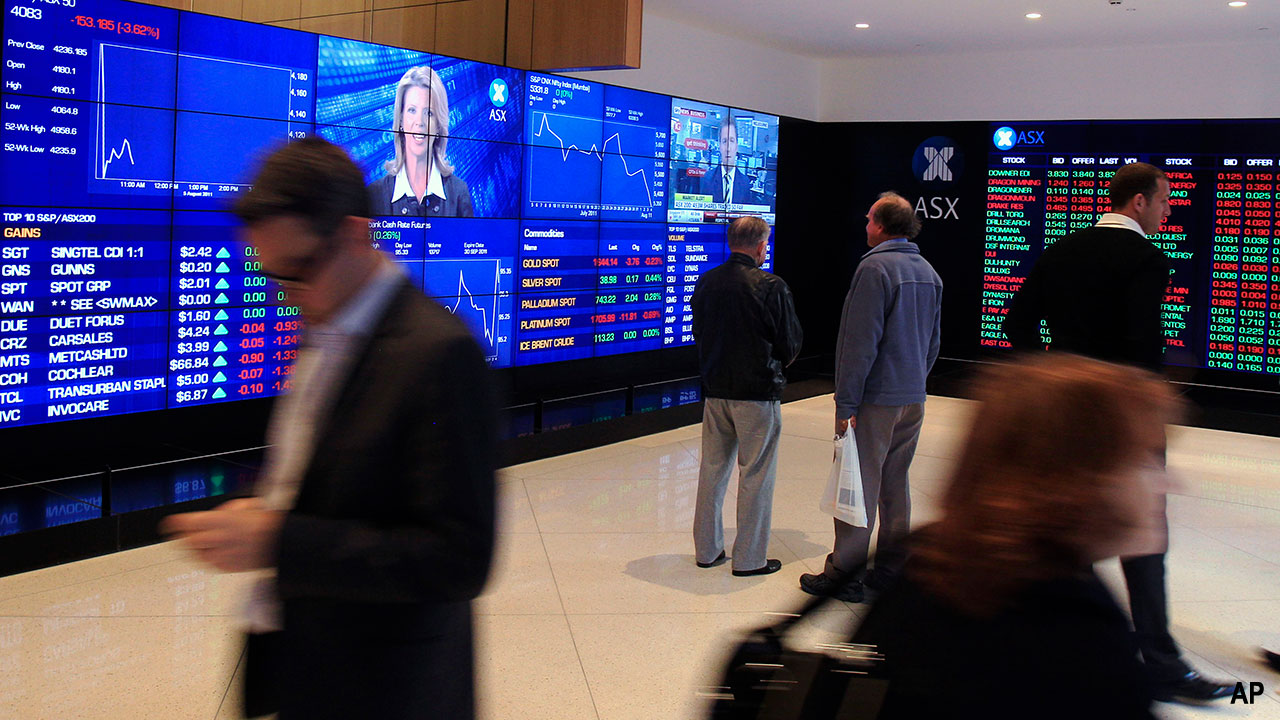 Australian investors have traditionally shown strong home bias, with large portions of their portfolios in direct equities. Roughly 60% of investors polled in 2020 owned domestic shares directly, according to the ASX. Just 15% held an exchange-traded fund. But the times, they are a-changin'.
Sharesight's annual Top 20 ASX trades list is packed with ETFs offering investors exposure to international markets, US technology and 'all-in-one investments.' It's a marked change from 2020, when the top trades were banks, travel companies and buy-now-pay-later firms.
Four of the top five most traded securities were ETFs, including Vanguard's International Shares ETF (ASX: VGS) and the BetaShares Nasdaq 100 ETF (ASX: NDQ). Sharesight users also piled into Vanguard's multi-asset diversified high growth ETF (ASX: VDHG) which offers investors an 'all -in-one' global mix of stocks and bonds.
Investors are chasing the year-long rally in international stocks, led by the standout performance of US technology companies.
"The big story of 2021 was the tech boom," says Prashant Mohan, chief marketing officer at Sharesight.
"People did their research and rather than picking winners in the tech boom, they've gone for the broader index. A lot of these ETF products have made it easier to invest in the sector."
BetaShares Nasdaq 100 tracking fund posted a 37% total return last year, buoyed by blockbuster returns at companies such as Apple and Google.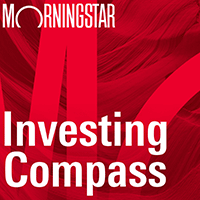 Listen to Morningstar Australia's Investing Compass podcast
Take a deep dive into investing concepts, with practical explanations to help you invest confidently.

For those investing locally, the most popular trade was Vanguard's Australian Shares Index ETF (ASX: VAS). The $9.7 billion juggernaut retained its apex position as investors opted for a diversified approach to the domestic market.
Troubled buy-now-pay-later player Zip (ASX: Z1P) was the only company among the top five. The BNPL provider retained its second-place spot from 2020 even as increased competition and regulatory scrutiny weighed on performance. Shares fell 18.1% in 2021, reversing part of the 50% gain notched the year before.
Portfolio management platform Sharesight, used by thousands of Australian investors to track their investments, shared which securities their users traded most through 2021 with Morningstar.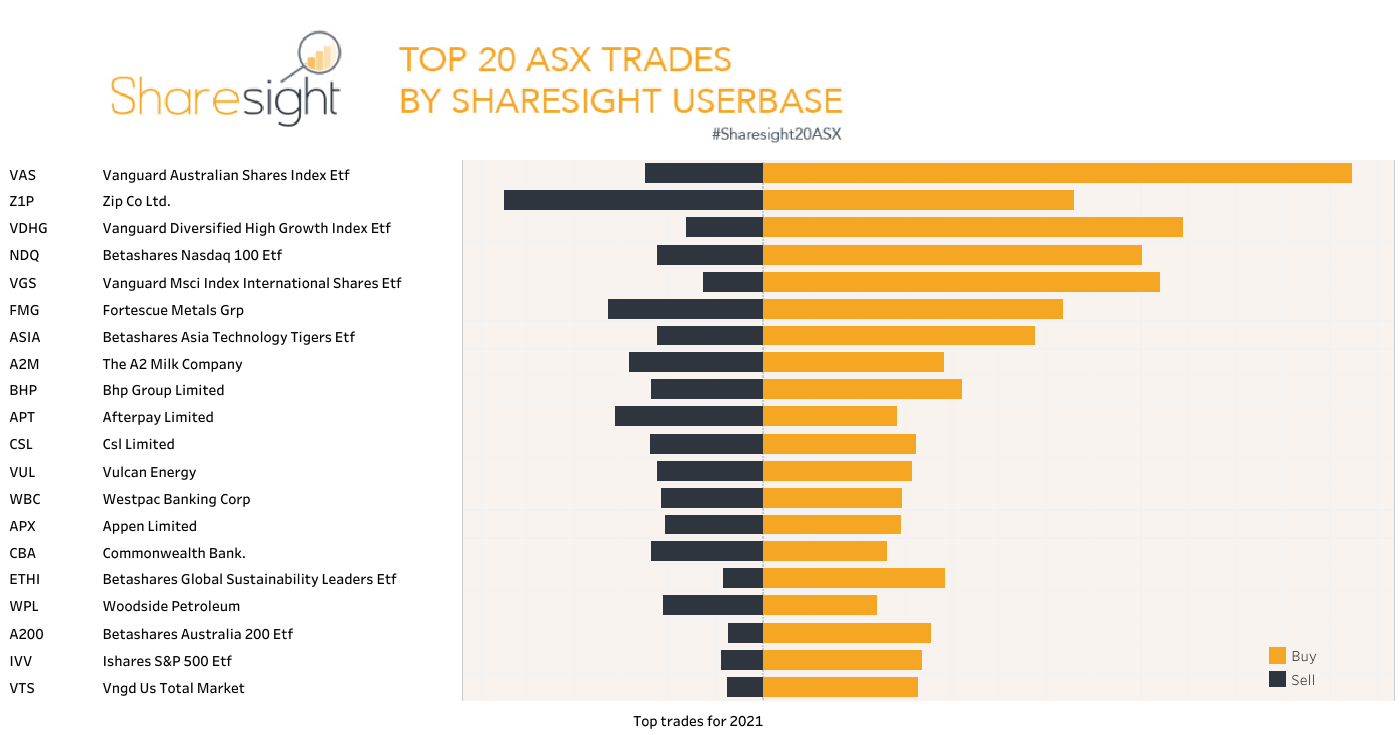 The data reveals a second changing of the guard when it comes to shares: goodbye travel and banking, hello iron ore and Asian technology.
Fortescue Metals Group (ASX: FMG), BHP (ASX: BHP) and the BetaShares Asia Technology Tigers ETF (ASX: ASIA) blasted into the top ten as action in the Chinese economy loomed over Australia. Miners benefited from last year's runup in iron ore prices while ASIA gave investors exposure to turmoil in the Chinese technology sector.
The big banks and travel companies popular in 2020 were missing in action. A record year of profits and dividends failed to lure investors back to ANZ and NAB shares. Reopening favourites Qantas (ASX: QAN) and Webjet (ASX: WEB) numbered among the top ten in 2020 but were nowhere to be found last year.
Popular pandemic trade Afterpay (ASX: APT) similarly dropped down the list. The BNPL giant went from third most traded stock in 2020 to tenth place last year, even as it sealed a $39 billion deal with US payments giant Block (SQ).
In a year where global stock markets notched double digit returns, several of the top trades battled torrid performance. Appen (ASX: APX), Kogan.com (ASX: KGN) and The A2 Milk Company (ASX: A2M) all shed more than 50% in 2021.
Narrow-moat A2 Milk lost 52% last year but Morningstar equity analyst Angus Hewitt remains optimistic. The short-term inventory issues that plagued the business in 2021 are mostly resolved and he expects Chinese consumers will continue to buy the company's infant formula in the future.
"We think the share price rout is overdone. In our view, the market is too focused on near-term headwinds, and shares in a2 Milk continue to screen as good value," says Hewitt.
Investors swap Woolworths for ETFs
Blue chip stalwarts remain the most popular holdings of Sharesight investors even as several ETFs enter the top ten for the first time.
Telstra (ASX: TLS), National Australia Bank (ASX: NAB) and Commonwealth Bank (ASX: CBA) nabbed second, third and fifth, respectively. All three have occupied the top five spots going back to 2019. Westpac, BHP Group and ANZ were also among the top ten.
ETFs are nibbling at their heels. The number of ETFs in the top ten quadrupled to four last year, with Vanguard's Australian Shares Index ETF the number one holding among Sharesight portfolios in 2021.
These funds have entered the top ten at the expense of several household names. CSL (ASX: CSL), Woodside Petroleum (ASX: WPL) and Woolworths Group (ASX: WOW) occupied spots among the top ten in 2020. All have since slipped, with Woolworths falling furthest, going from 8th place in 2020 to 19th last year.
All three lagged the index last year, returning between 11.5% and -1.1%.