News
4 lower-risk ways to hold WAAAX stocks
Investors seeking exposure to Australia's tech darling WAAAX stocks without the volatility could consider one or more fund managers.
It's been a rollercoaster ride for the WAAAX – WiseTech, Altium, Appen, Afterpay, Xero – whose valuations have soared over the past three years:
WiseTech, a logistics software developer, has seen its share price climb more than 360 per cent since 2017
Electronics design software firm Altium's share price has topped 370 per cent
Artificial intelligence and machine learning company Appen's share price is up more than 800 per cent
Buy now pay later company Afterpay's share price has grown a staggering 1180 per cent
Accounting software firm Xero's share price has gained around 360 per cent.
WAAAX share prices between 2017 and 2019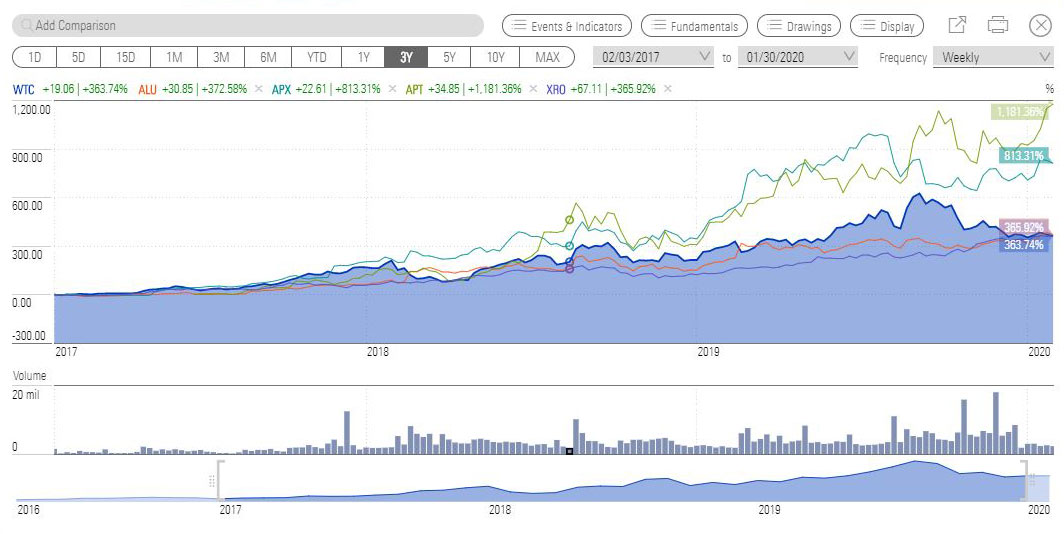 Source: Morningstar
Some small-cap investors relish the thrill of the ride, but others have less appetite for risk. These investors may be more comfortable with a fund that owns a stake in Aussie tech firms, but is run by a professional who oversees a portfolio of these and a broader range of stocks.
The following funds, which hold a combination of Morningstar Gold and Silver medals, all have some exposure to one or more of these local tech darlings, which are collectively dubbed "WAAAX".
• Fidelity Future Leaders (19893)
• Colonial First State Smaller Companies (7006)
• Pengana Emerging Companies (12260)
• Hyperion Small Growth Companies (4242)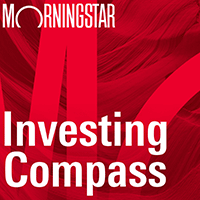 Listen to Morningstar Australia's Investing Compass podcast
Take a deep dive into investing concepts, with practical explanations to help you invest confidently.

Altium emerges as the most widely held WAAAX stock among this collection of small-cap managers, which have been identified using a Morningstar screener.
Altium is an American software company, based in Australia, that provides PC-based electronics design software for engineers.
The above Fidelity, Colonial First State and Pengana strategies each hold Altium in their portfolios, with weightings of 4.17 per cent, 2.84 per cent and 0.5 per cent, respectively.
Michael Malseed, an associate director in Morningstar Australia's manager research team, says the Fidelity fund stands out from competitors because of its rigorous investment approach applied by portfolio manager James Abela.
Typically, the portfolio contains between 40 and 70 stocks, with annual turnover of the holdings averaging between 60 and 80 per cent.
Fidelity conducts an initial cull to test companies for their:
viability – pricing power, strong opportunities, and high return on equity
sustainability – solid industry position, strong positive cash flow, and ability to withstand competitive pressures
credibility – quality of the business and management.
Altium is a top five holding as at 31 October 2019, just ahead of Xero (ASX: XRO), which has a 3.32 per cent weighting.
Biomedical firm ResMed (ASX: RMD) is the fund's largest exposure (6.7 per cent), ahead of Fisher & Paykel Healthcare's (ASX: FPH) 4.63 per cent weighting.
Further down its portfolio list, Fidelity also holds WiseTech (ASX: WTC) and Appen (ASX: APX), with weightings of 0.45 per cent and 0.41 per cent.
'A lot going right' for CFS
Colonial First State Smaller Companies has a portfolio comprising between 40 and 60 companies, of which Altium ranks fifth in terms of individual company weightings.
As of the end of July 2019, financial advice software company IRESS (ASX: IRE) was the highest individual position of 3.87 per cent), followed by mining stock Independence Group (ASX: IGO) and international education provider IDP Education (ASX: IDP), which have weightings of 3.3 per cent and 2.91 per cent.
"There's a lot going right for CFS Australian Small Companies, and that's why it's one of the best in the small-cap sector," says Morningstar's senior manager research analyst Matthew Wilkinson.
The Colonial First State fund part of CFSGAM was rebranded as First Sentier Investors by new owner Mitsubishi Bank last August.
Wilkinson regards the fund's senior portfolio manager, Dawn Kanelleas, as having strong insights across the small cap market. He also notes her strong focus on balance-sheet strength and sustainable cash flow: "this raises the quality bar for entry into the portfolio, which is vital for small-cap investing."
Pengana: compelling but costly
Senior Morningstar analyst Ross MacMillan describes the Pengana fund as a compelling option with an impressive track record, despite its relatively high cost.
The fund's 1.33 per cent ongoing management fee is above average, alongside a performance fee of 20.5 per cent of any above-benchmark returns – though this is capped.
The fund's portfolio differs considerably to the benchmark, steering clear of property trusts, biotech and pure-play mining companies.
"The portfolio is generally quite diversified with 50 to 60 names," says MacMillan.
"Weightings are based principally on the team's forecast of returns, but also on the riskiness and liquidity of the stock."
This means the fund's top 10 holdings typically account for between 35 and 40 per cent of the portfolio. But it can also have a large number of sub-1 per cent weightings.
Altium is one of these, with a 0.51 per cent portfolio weighting, and it also holds a 1.73 per cent exposure to WiseTech.
Education software company Technology One (ASX: TNE) is its 10th-largest position as of the end of June 2019.
Alongside the Pengana and Fidelity small cap funds, Hyperion Small Growth Companies also holds a stake in WiseTech.
WiseTech is one of only three of the WAAAX stocks rated by Morningstar equity analysts, who also cover Xero and buy-now-pay-later company Afterpay (ASX: APT).
WiseTech is awarded a narrow moat by equity analyst Gareth James. But at its current share price of about $25, it's a one-star stock, trading 200 per cent beyond the $8.10 a share James believes it is worth.
Hyperion: high-ranking research
The Hyperion fund is concentrated at both a stock and sector level, with only about 15 to 25 individual companies in the portfolio.
But Wilkinson says the research team applies "some of the best fundamental research in the business" in deciding which companies make the cut.
"Identifying growing cash flows and earnings over multiyear time frames is an evident skill here, as is avoiding the more speculative fare," he says.
"It's that type of work that has led to very long-term winners such as Domino's Pizza (ASX: DMP), REA Group (ASX: REA) and Technology One."
Wilkinson concedes some of the growth names in the portfolio can appear overpriced at times, "but that's where our conviction in the research comes in."
As of December 2019, WiseTech held a 6.8 per cent asset weighting. Other top 10 holdings include Xero, with a 7.6 per cent portfolio weighting, IRESS (5.67 per cent) Fisher & Paykel Healthcare (5.34 per cent and financial advice software group HUB24 (ASX: HUB) (5 per cent).