News
Morningstar Guide to Investing: Part II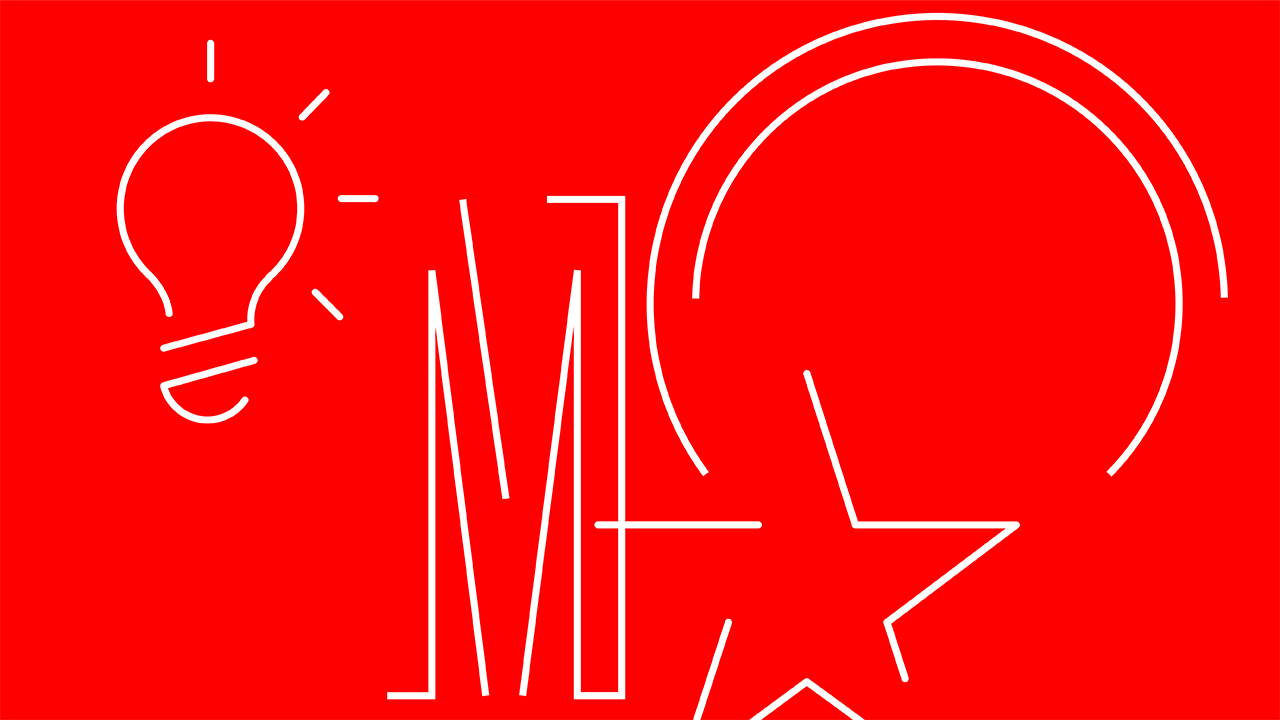 Investing product overview
Now that you have learned some of the foundational concepts of investing, you are ready to continue your journey towards becoming a Morningstar investor.
Morningstar provides independent, fundamental analysis of a wide range of investments including equities, managed funds, ETFs, and LICs. We have a dedicated team of over 30 equity, credit, and manager research analysts in Sydney covering the local market and a global team of 270 analysts. Worldwide we cover 1,600 stocks, 700 debt issuers, and 4,380 funds and ETFs.
We have provided a brief description of each asset class and described our research methodology and where to access our research.
Equities
Buying an equity gives you partial ownership of a company. As a partial owner, you have a share of any assets owned by the company, earnings generated by selling products, as well as any liabilities the company may have. If you owned Apple stock before they invented the iPhone, you benefited from the resulting success of the product. At the same time, if you invest in a company that performs poorly or is adversely impacted by global trends or events, you share in the downside. In the case of the company you own going out of business, this can result in a complete loss of your investment.
At Morningstar, we believe buying shares of superior businesses and allowing them to compound over time is the surest way to create wealth in the stock market. The long-term fundamentals of businesses, such as cash flow, competition, economic cycles, and stewardship, are our primary focus areas because history has shown that market sentiment is fleeting, momentum can quickly reverse, and the herd is sometimes a dangerous crowd.
Our focus is on the intrinsic value of a security. Occasionally, this approach causes our recommendations to appear out of step, but willingness to be contrarian is an important source of outperformance and a benefit of Morningstar's independence.
There are three key components that go into our fundamental analysis of equity securities:
Economic moat: The economic moat concept is a cornerstone of Morningstar's investment philosophy and is used to distinguish high-quality companies. An economic moat is a structural feature that allows a firm to sustain excess returns on invested capital over a long period. Without a moat, profits are more susceptible to competition. We have identified five sources of economic moats: intangible assets, switching costs, network effect, cost advantage, and efficient scale.
Fair value estimate: Our fair value estimate is primarily based on Morningstar's proprietary three-stage discounted cash-flow model. We're looking well beyond next quarter to determine the cash-generating ability of a company's assets because history has shown the market price of a security will migrate towards the firm's intrinsic value over time.
Uncertainty rating: The Morningstar uncertainty rating demonstrates our assessment of a firm's cash-flow predictability, or valuation risk. From this rating, we determine appropriate margins of safety: the higher the uncertainty, the wider the margin of safety around our fair value estimate before our recommendations are triggered.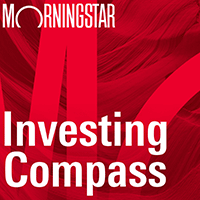 Listen to Morningstar Australia's Investing Compass podcast
Take a deep dive into investing concepts, with practical explanations to help you invest confidently.

Our recommendations are based on the current share price relative to Morningstar's fair value estimate after adjusting for an appropriate margin of safety. Our equity research reports provide the following ratings: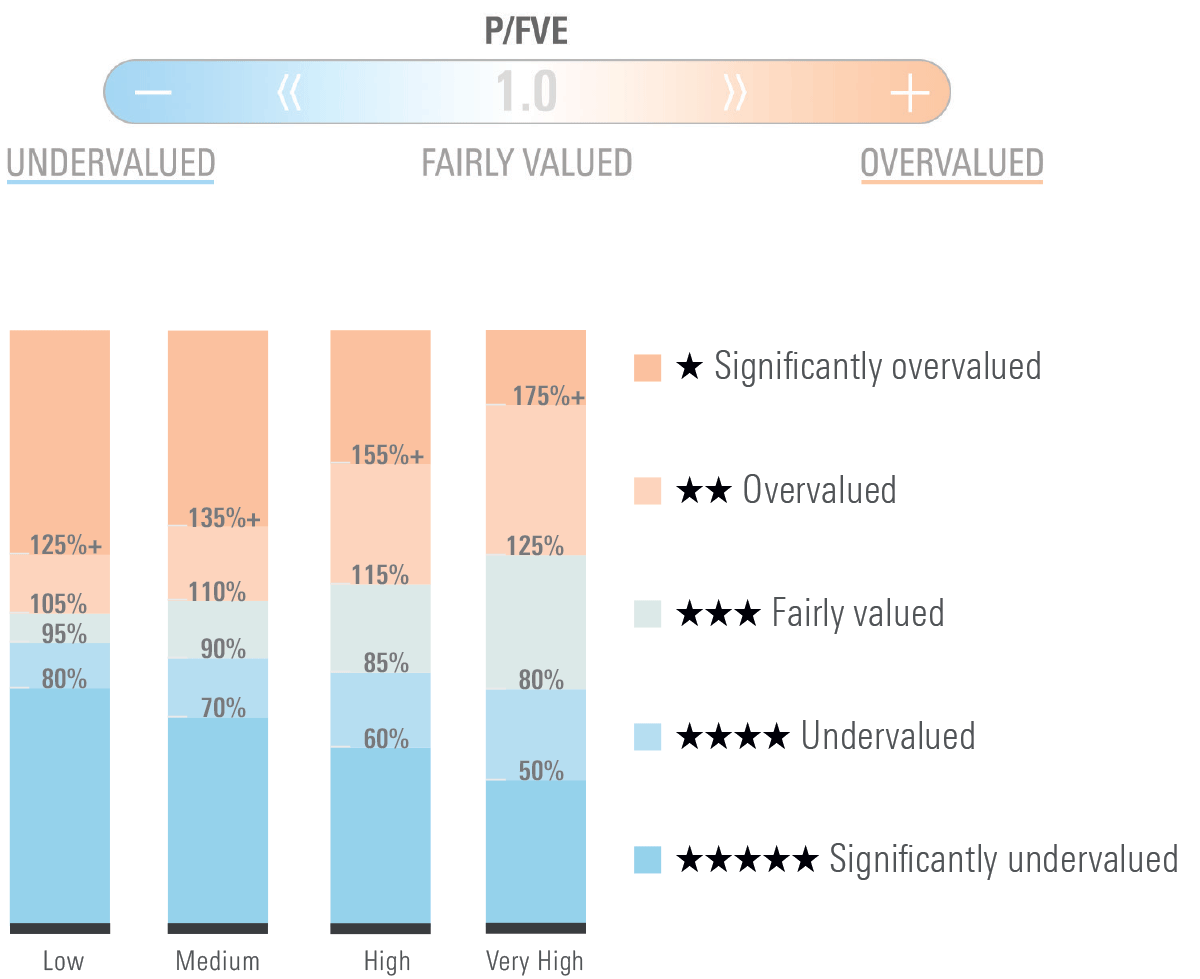 Managed funds, ETFs and LICs
Pooled investment vehicles offer a diversified portfolio, managed by a professional fund manager, in a single investment. They come in three main types: managed funds, exchange-traded funds (ETFs), and listed investment companies (LICs).
These vehicles cover various asset classes including bonds, property, and stocks. The investment strategies range from simple, low-cost, index strategies all the way to higher cost, active approaches, and also include some complex options that employ derivatives and other methods. There is a huge array of investment choices, so Morningstar offers several tools to help investors narrow down which investments may be appropriate for them, and just as importantly, which investments should be avoided or treated with caution.
Morningstar Analyst Rating and Morningstar Star Rating
The two most visible tools are the Morningstar Analyst Rating (qualitative) and the Morningstar Star Rating (quantitative).
The quantitative Star Rating analyses the historical performance of a fund, looking backwards. It ranks funds from one to five stars, based on past performance—both return and risk (volatility). It uses focused comparison groups to better measure fund manager skill. As always, the Morningstar Rating is intended for use as one step in the fund evaluation process. A high rating alone is not a sufficient basis for investment decisions.
The qualitative Morningstar Analyst Rating is the summary of our forward-looking view of a fund. It is the outcome of a collaborative process based on a site visit, manager questionnaire, quantitative and holdings-based analysis of the portfolio, and an assessment of key issues identified by our analysts.
Morningstar's qualitative manager research aims to determine which investments deserve the attention of investors and which do not. Morningstar assesses investment managers based on how we believe they will perform in the future over an economic cycle, against both peers and accepted benchmarks. Our model rewards managers that are open and transparent, have a well-run investment process and, importantly, are good fiduciaries of investors' monies.
We have identified five areas that we believe are crucial to predicting the future success of funds: People, Parent, Process, Performance, and Price. Based on our evaluation of these components, our analysts assign a Morningstar Analyst Rating to funds using a five-point scale ranging from "Gold" to "Negative". The top three ratings of Gold, Silver, and Bronze all indicate that our analysts think highly of a fund; the difference between them corresponds to differences in the level of analyst conviction in a fund's ability to outperform its benchmark and peers through time, within the context of the level of risk taken. The Analyst Rating does not express a view on a given asset class or peer group; rather, it seeks to evaluate each fund within the context of its objective, an appropriate benchmark, and peer group.
We publish Star ratings on ETFs and managed funds (as the returns are calculated using the same methodology) but not LICs, which have a unique methodology for calculating their performance. We publish Analyst Ratings on ETFs, managed funds, and LICs.
In essence, think of the Star Rating as a report card of past performance, the Analyst Rating as an aptitude test of its future performance.
Morningstar's manager research team
Morningstar has a network of more than 110 manager research analysts located across the firm's offices in Sydney, Chicago, London, and Hong Kong. In Sydney, our team of more than 10 manager research analysts have more than a decade of experience on average. These analysts share global insights, analysis, and investment data.
ETFs
ETFs share three qualities: they're pooled investment vehicles, their shares trade on stock exchanges, and they have a daily share creation and redemption mechanism. An ETF can be thought of as a managed fund whose shares happen to trade on stock exchanges. The largest and oldest ETFs are passive investments, which merely try to replicate the behaviour of a market or market segment.
Managed funds
Managed funds pool the money of individuals for investment by a professional fund manager. They are not listed on the exchange, and investors apply to invest or redeem directly with fund managers, or via investment platforms or the ASX's mFunds service. Investments in managed funds are processed through the creation and redemption of fund shares at the end of each trading day. Through this process the managed fund will always trade at the net asset value of the underlying assets within the fund.
How we can help you achieve your financial goals
Morningstar's core mission is to help individual investors make better financial decisions. The following section outlines how we help investors achieve better financial outcomes.
Discover new investments
Morningstar provides a variety of ways that you can discover new investments including:
pre-defined stock screens that show our 5 star and wide moat ideas accross a variety of geographic regions
pre-defined fund screens that show our Gold, Silver and Bronze rated funds accross a number of asset classes
pre-defined ETF screens that show our Gold, Silver and Bronze rated ETFs accross a number of asset classes
investment filters that allow users to select criteria to search our database of over 53,000 stocks, funds and ETFs
Stock Screener
The Morningstar Stock Screener is a tool that can be used to search for stocks by sector, market cap, and key criteria including performance figures and valuation ratios. You can also include criteria such as our analyst recommendations, economic moat, stewardship rating, fair value uncertainty or three analyst pre-defined searches.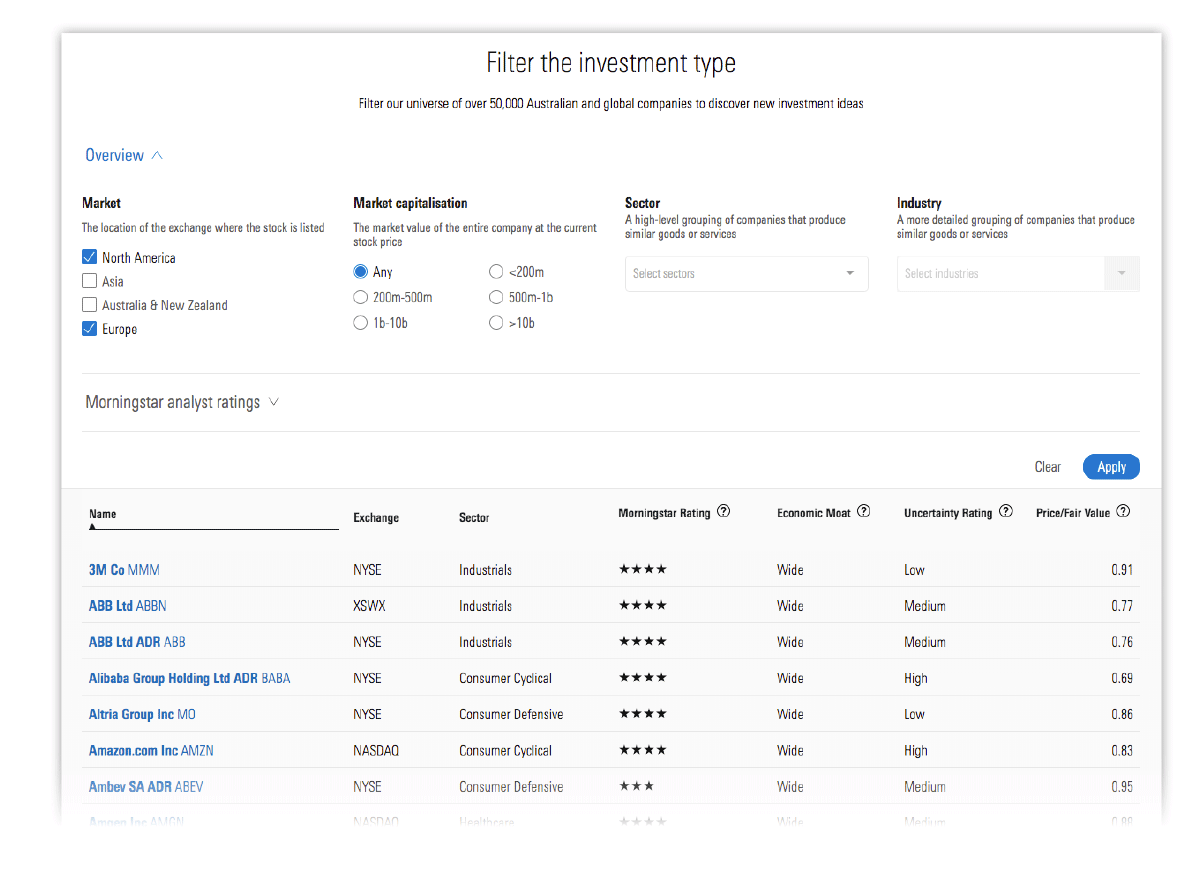 Fund Screener
The Morningstar Fund Screener is a tool that can be used to find investment trusts, superannuation funds, pensions and annuities by fund manager, category, assets, minimum investment and returns criteria. We also include the Morningstar Rating as a search criteria.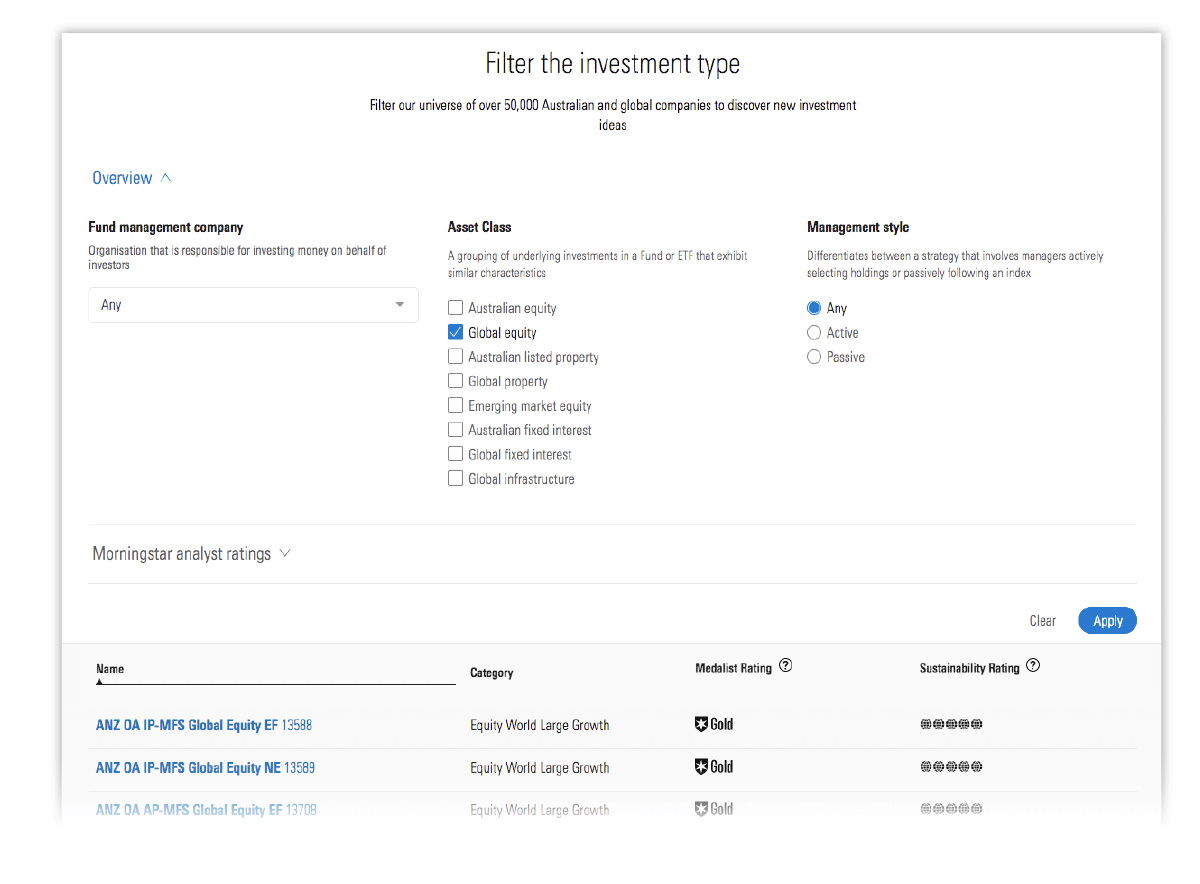 Global Equity Best Ideas
Morningstar's monthly Global Equity Best Ideas is a compilation of stock ideas sourced from Morningstar's global equity research team. Coverage includes companies based in Australia & New Zealand, Asia, the Americas and Europe, which are currently trading at significant discounts to our assessed fair values.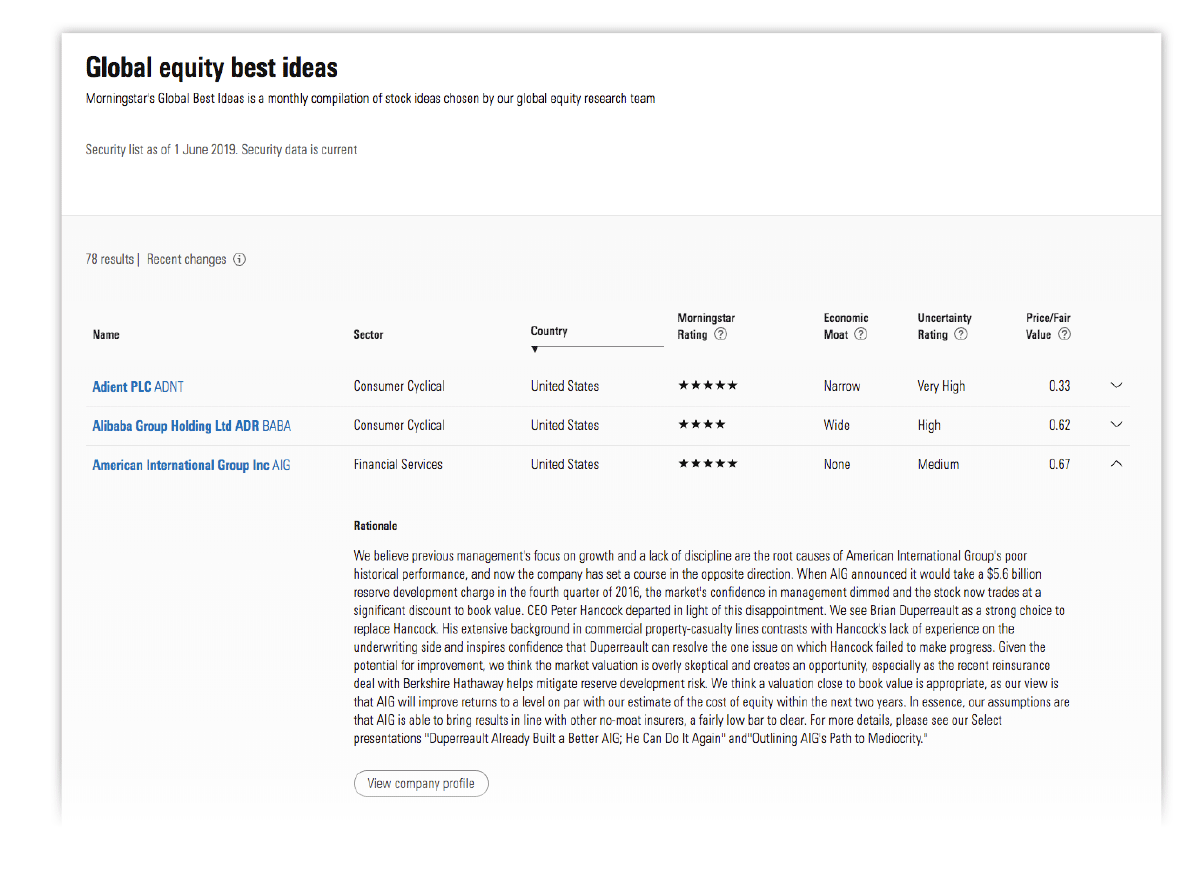 How to evaluate investments
As a leading independent provider of investment research, Morningstar provides our readers with support in assessing new investment ideas, reviewing current portfolio holdings and / or validating third-party advice.
Morningstar's Equity Research Reports
Morningstar's Equity Research Reports provide a comprehensive view of each security that we cover. We provide an overall recommendation based on our calculated intrinsic value compared to the current price of the security. The key to our evaluation of each security is our assessment of the four key components of our fundamental analysis: the fair value estimate, uncertainty rating, economic moat and stewardship rating. Our analyst report also includes, our full investment thesis and comments on the valuation and risk of the security.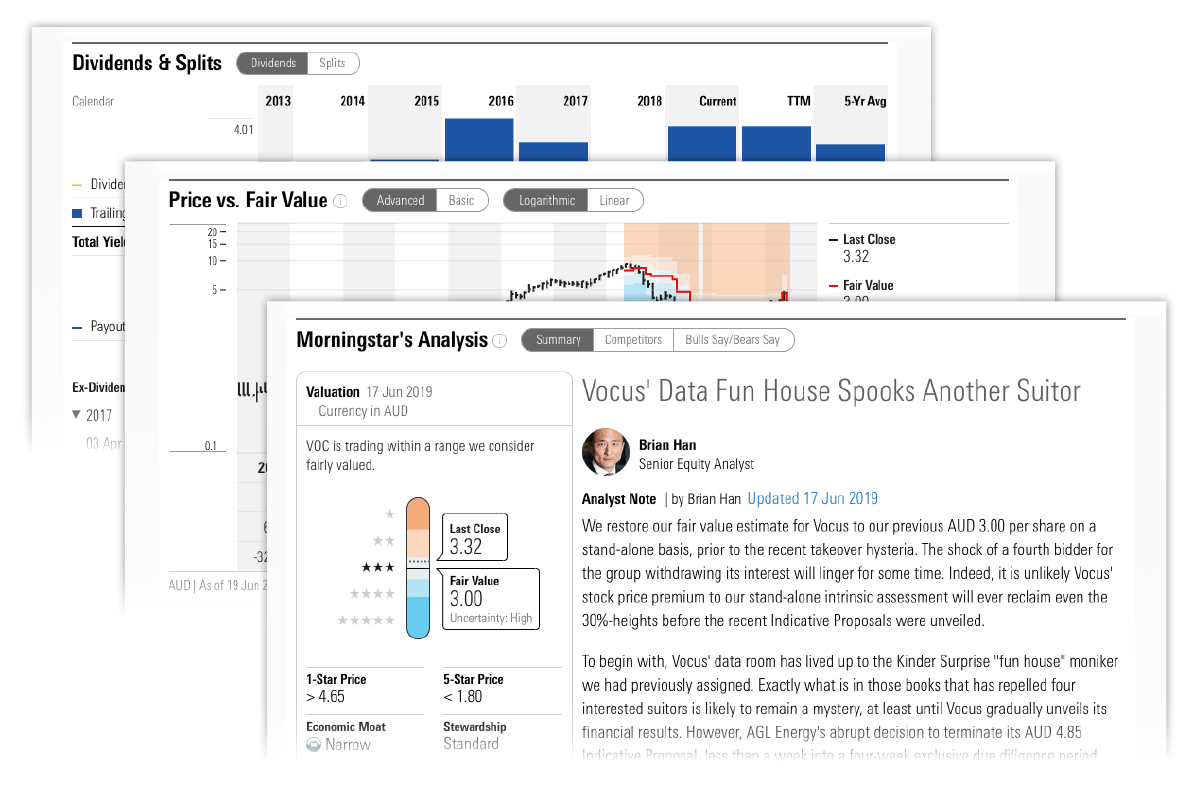 Morningstar's Manager Research
Morningstar's Manager Research covers LICs, ETFs and Managed Funds. We provide our forward looking qualitative Morningstar Analyst Rating along with a detailed research reports. Our full analyst report includes our view of the role that the fund or ETF can play in a diversified portfolio as well as our assessment of the investment team, investment process and the various fees that investors are charged.