News
A2M's outlook sour but not spoiled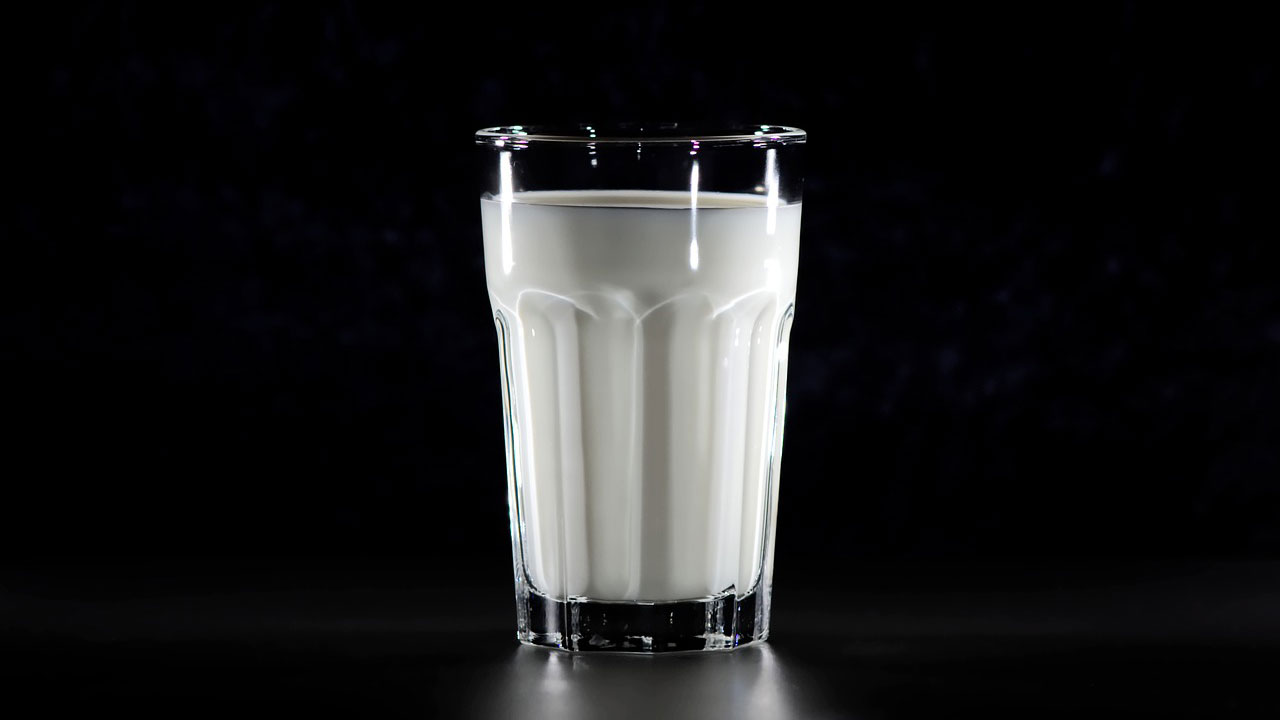 The outlook for narrow-moat speciality diary and infant formula producer a2 Milk may have been downgraded but the long term remains strong, and its shares cheap.
That's the view of Morningstar regional director Adam Fleck, who says the company is well placed to rebound from the covid-induced disruption to customers and distributors.
Fleck sees a rebound in profitability and forecasts revenue to grow at an annual rate of 12 per cent through to fiscal 2030.
Risks remain, especially in the form of competition and potential regulation, but the general outlook is positive, and the company's narrow moat—or ten-year competitive advantage—reflects its formidable brand and pricing power.
The a2 Milk Company (ASX: A2M) is a New Zealand licensor and marketer of fresh milk, infant formula, and other dairy products that lack the A1 beta-casein protein. On Wednesday it was trading at about a 45 per cent discount to Fleck's fair value estimate of $14.10.
In fiscal 2020, more than 80 per cent of total sales came from infant formula, which consequently is a key driver of Fleck's outlook. The company relies heavily on the network of Chinese professional shoppers, known as daigous.
"The full-year outlook is disappointing, but there are signs for optimism," Fleck says. "End-market demand for a2's infant formula remains solid, with market shares in-store and online in China gaining from the pcp and prior half.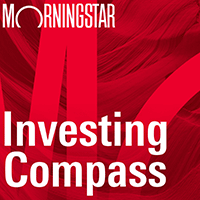 Listen to Morningstar Australia's Investing Compass podcast
Take a deep dive into investing concepts, with practical explanations to help you invest confidently.

"In particular, the company reported a 45 per cent increase in Chinese-language-labelled in-store sales, with distribution points jumping 15 per cent from the end of fiscal 2020."
Revenue in the first half of fiscal 2021 beat guidance but was still 16 per cent down on the same time a year ago as customers bought less than expected.
But daigou volumes have already begun to rally, which boosts Fleck's confidence in a second-half rebound.
"And we expect profitability to recover, given many of the near-term drivers are unlikely to repeat past 2021, including the inventory write-off and incentive support for daigou partners."
The a2 Milk Company - growth of $10,000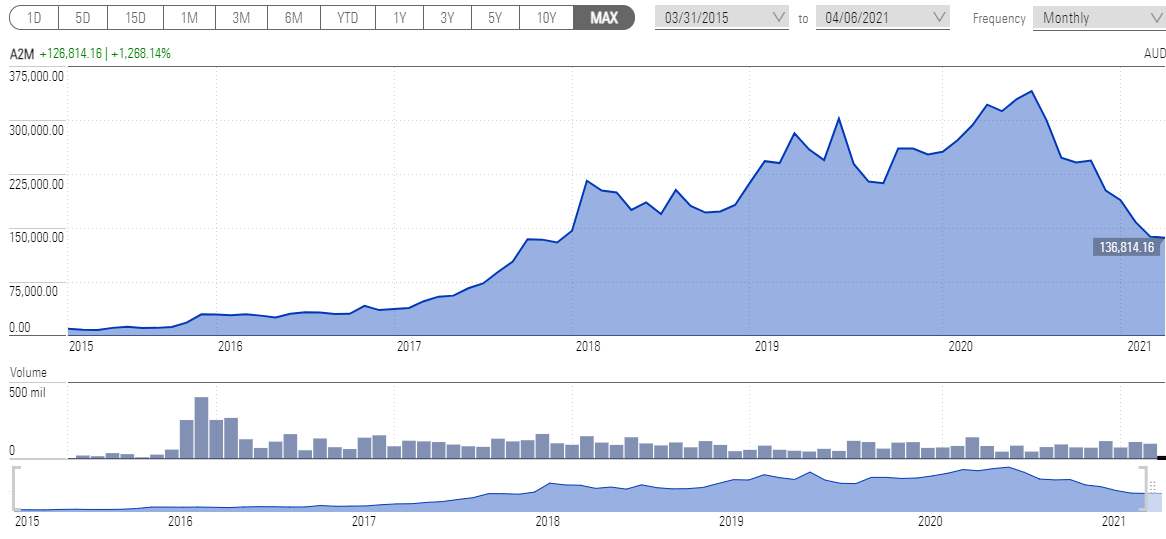 Source: Morningstar Premium; data as of 7 April 2021
Positive signs
China is both a key driver and potential source of risk for A2M. On one hand, it remains a major long-term growth opportunity for A2M, and should help to drive continued margin improvement, Fleck says.
At the same, there is the risk China could further change the rules for infant formula. This in turn could disrupt supply for A2 or allow local manufacturers to better compete.
Another factor is the perceived health benefits, such as better digestion, of A2-type milk. While the science is currently uncertain, further studies on the benefits of A1-protein-free dairy products could support positive health claims for A2 Milk.
Then there is the brand and pricing power. A2 Milk enjoys solid brand positioning, particularly in the Chinese infant formula market and Australian fresh milk arena, which has allowed it to sell milk more expensively than local and private-label alternatives.
In Australian fresh milk, A2 Milk is roughly double the price of the store-brand rival. Similarly, the A2 Platinum infant formula brand generally retails at about 50 per cent higher in Australia versus other major players such as Nestle, Karicare, and Bellamy's.
And in China, A2M is part of a growing consumer preference for premium, international brands instead of locally made product, although the pricing premium is less pronounced versus major peers, Fleck says.
Milk may spill
A2M relies heavily on only two major suppliers, Synlait and Fonterra. This concentration raises the potential for price hikes, supply challenges, or more competition.
"The company fights against strong competition in China and elsewhere," Fleck says. "In the longer term, A2M may be under capitalised to take on the marketing arms of dairy behemoths such as Nestle and Danone."
As well as premium pricing, another of A2M's intangible assets is the exclusive right to market the perceived benefits of A1-protein-free milk until 2023 milk under patent.
Fleck concedes there is a risk this patent expiry could lead to aggressive counter-marketing by competitors but cites several factors that limit the impact.
"For one, competitors have been free to develop their own A1-free herds of cows for some time, and have done so.
"There are already alternative A2-protein-only options on the market. But these have had a relatively limited impact to A2M so far. This is primarily because competitors that choose to heavily promote A1-free milk products run the risk of cannibalising their traditional dairy offerings, which make up a far larger portion of sales and profits.
"And, in China, we've seen consumers prefer brands over ingredients; even in cases where we've seen growth of other A2-only formulas (such as Nestle's Atwo, for instance), the growth has come primarily at the expense of sales within the same brand family, rather than from The a2 Milk Company's products.
"This leads me to believe that A2M's strong brand is enduring and should continue to shield premium pricing. Importantly, the company's new CEO David Bortolussi seems to also understand this, as he is focusing on the importance on maintaining this premium pricing while also supporting the brand through marketing and in-store promotional activity."
Morningstar's Global Best Ideas list is out now. Morningstar Premium subscribers can view the list here.