News
Opportunities emerge in US tech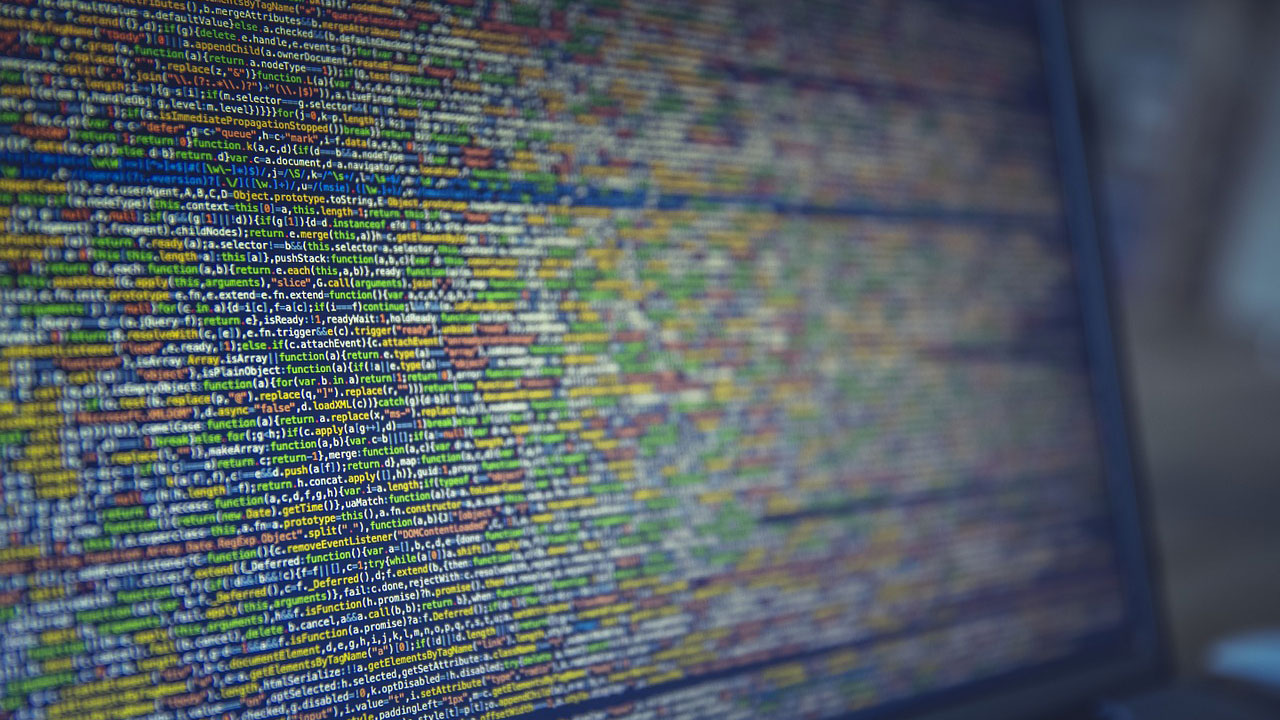 Some of those overheated US tech stocks you were wondering about at the start of the year are now in undervalued territory, according to Morningstar.
The covid-19 crisis has swept across the globe at a furious pace and has just as swiftly reversed Morningstar stock valuations.
The Morningstar US Market Index has plunged roughly 20 per cent from the end of 2019.
And demand for software and cybersecurity services, among names like Microsoft (XNAS: MSFT), Salesforce (NYSE: CRM) and ServiceNow (NYSE:NOW), is considered recession-proof because of their subscription-based business models and "sticky" customer bases.
Not to mention the deluge of cybersecurity queries that IT departments are expected to face as much of world works from home.
"For investors looking for companies less likely to be affected by a recession, tech and utilities, two sectors that we thought looked materially overvalued heading into 2020, now trade at discounts," Morningstar director of US equity research Jeffrey Stafford says in the latest US market outlook.
Morningstar Premium members can access the full report Coronavirus: Market Temperature Check here. Or you can take a free trial to Premium and get instant access. It also includes a list of 40 global stock ideas to consider.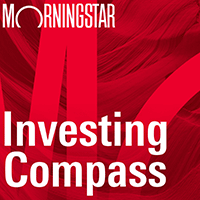 Listen to Morningstar Australia's Investing Compass podcast
Take a deep dive into investing concepts, with practical explanations to help you invest confidently.

Like the broader stock market, technology stocks sold off at the end of the first quarter over concerns about COVID-19 and the likelihood of a recession in 2020.
As of 26 March, the Morningstar US Technology Index was still up 10.5 per cent on a trailing 12-month basis, outperforming the US equity market, which fell 6.4 per cent, notes equity analyst Brian Colello.
Technology outperforming during the sell-off in Q1
Tech outperformed the broader market at the start of the covid-19 sell-off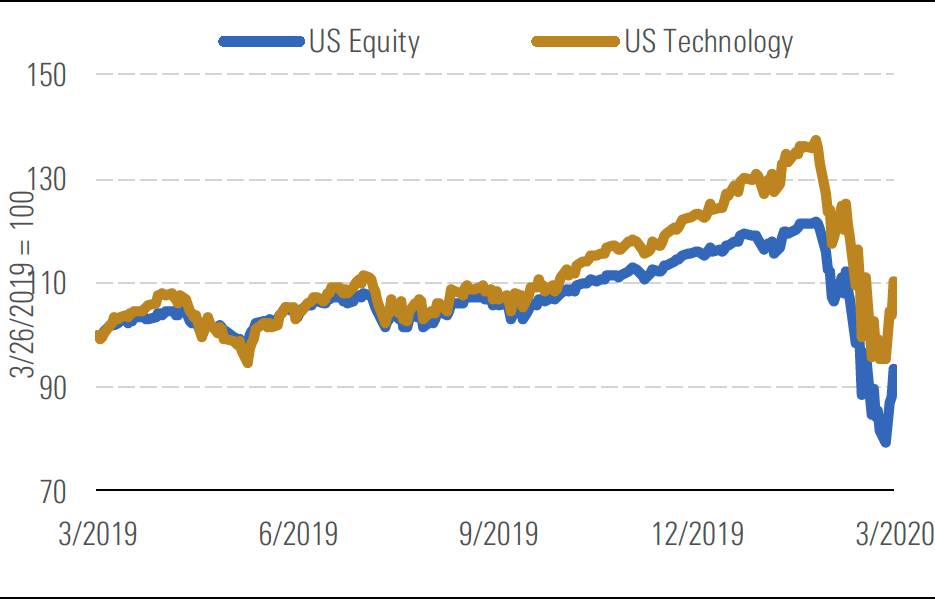 Year to date, technology was again an outperformer during the bear market, down 10.3 per cent compared with the broader US equity market, which was down 19.1 per cent.
Tech stocks came under pressure in late 2018 and intermittently through 2019 as the US-China trade tensions dominated.
As the year wore on, tech stocks recovered amid optimism that the two countries could seal more meaningful trade deals and avoid a full-blown trade war.
Some of the gains in tech stocks have of course been eroded by the coronavirus to the point where the median US technology stock is 13 per cent undervalued.
"This represents a rapid shift in sentiment from a quarter ago, when we had very few buy ideas," says Colello.
"Today, we see buying opportunities for patient, long-term investors across all tech subsectors."
In Colello's view, hardware is the cheapest subsector, as the median stock is 16 per cent undervalued today.
But software is potentially more attractive, he says because not only is the median stock 14 per cent undervalued but more firms tend to warrant narrow and wide economic moats.
The median semiconductor stock is 8 per cent undervalued.
Tech is undervalued in light of the covid-19-driven sell-off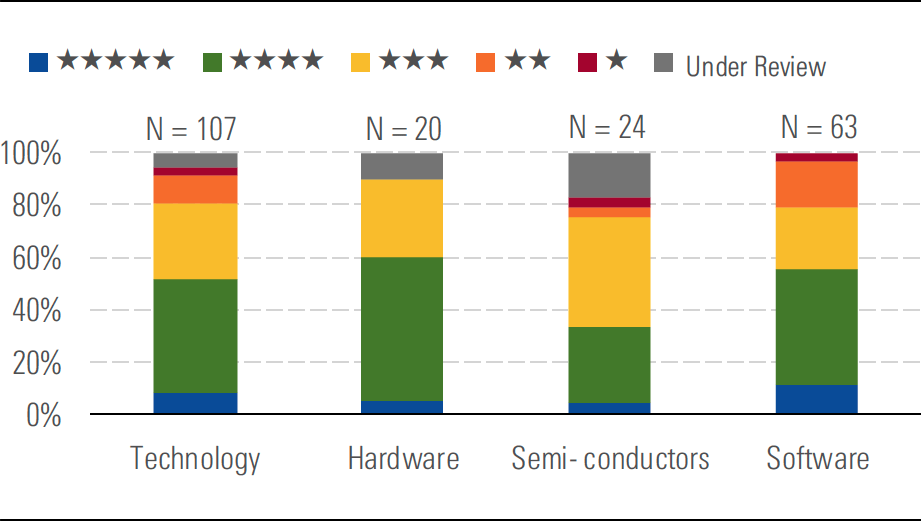 Colello sees opportunities in high-quality software names such as Microsoft, ServiceNow, and Salesforce.com.
"Each of these firms generates revenue on a subscription basis with little risk of cancellations, even as work shifts to homes and away from the office.
"The latter two names warrant positive moat trends as they continue to upsell new software to their existing, sticky customer bases."
Similarly, the $100 billion-plus cybersecurity market may also represent a haven, Colello says, not only on the strength of its subscription model but also because cyber solutions are a more pressing concern as more people work from home.
"IT departments have to decipher whether incoming data traffic represents a remote worker or a bad actor, and in turn, grant access to the various software and solutions that each employee needs to be productive," Colello says.
He expects the cybersecurity market will grow at a five-year compound annual growth rate of 9 per cent.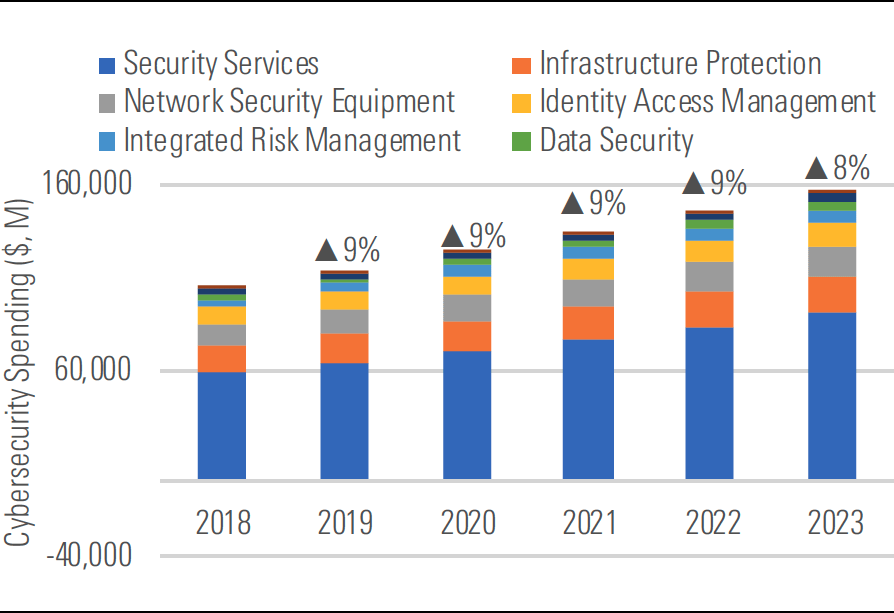 "Meanwhile, IT managers face too many alerts and not enough time to review them all, a trend we don't see slowing down with an increasingly mobile workforce."
The BetaShares Global Cybersecurity ETF HACK (ASX: HACK) (not under Morningstar coverage) has fallen by about only 12.5 per cent since the 20 February sell-off. It contains several four- and five-star US tech names.
IT managers face a deluge of cybersecurity threats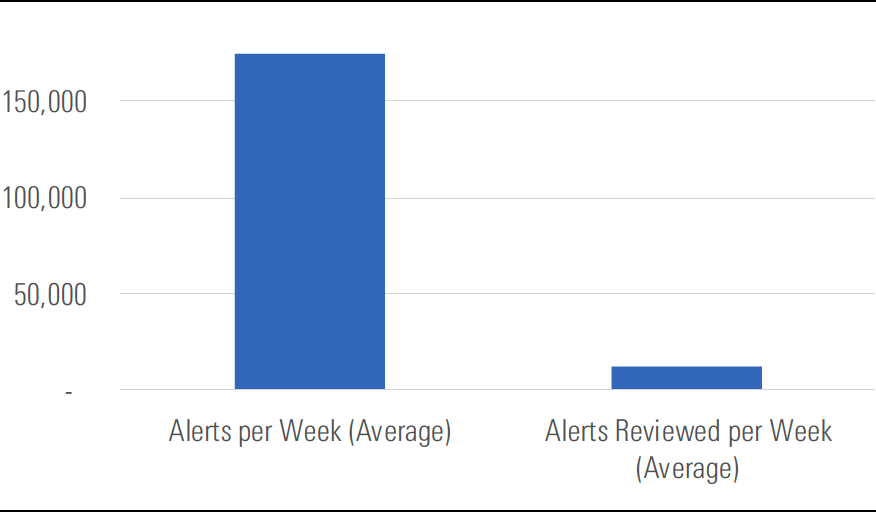 See also
Morningstar Guide to International Investing