News
Revealed: Top ASX trades of 2020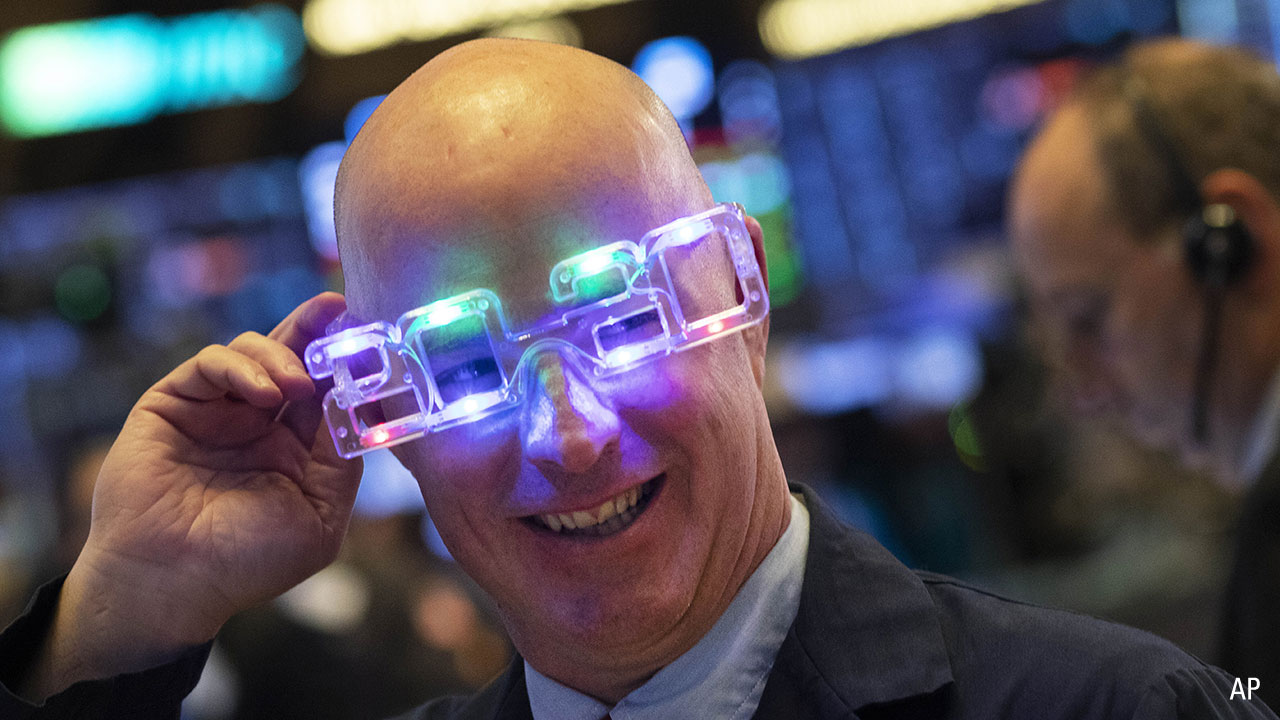 Dictionary.com's word of the year is an adept way to describe retail investor trading activity this year. Unprecedented.
Sharesight's annual Top 20 ASX Trades list is awash with new names – most of which are linked to the covid-19 boom or bust.
Travel and tourism stocks including Qantas Airways (ASX: QAN), Webjet Ltd (ASX: WEB) and Flight Centre (ASX: FLT) made an appearance, alongside buy now pay later market darlings Afterpay (ASX: APT) and Zip Co (ASX: Z1P). Investors sought to be both ahead of the rebound in global travel and get in on the run in "everything-from-home" stocks.
Woodside Petroleum (ASX: WPL) also made its way on to the list after a torrid year for oil and gas. Covid hammered demand and sent commodity prices tumbling to multi-year lows and forced a sharp pull-back in spending across the sector. Still, investors are betting on a brighter future.
Portfolio management platform Sharesight, used by thousands of Australian investors to track their investments, shared which securities their users have traded most through 2020.
Sharesight | Top ASX trades for 2020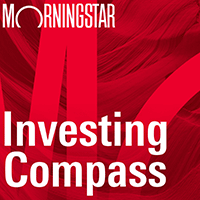 Listen to Morningstar Australia's Investing Compass podcast
Take a deep dive into investing concepts, with practical explanations to help you invest confidently.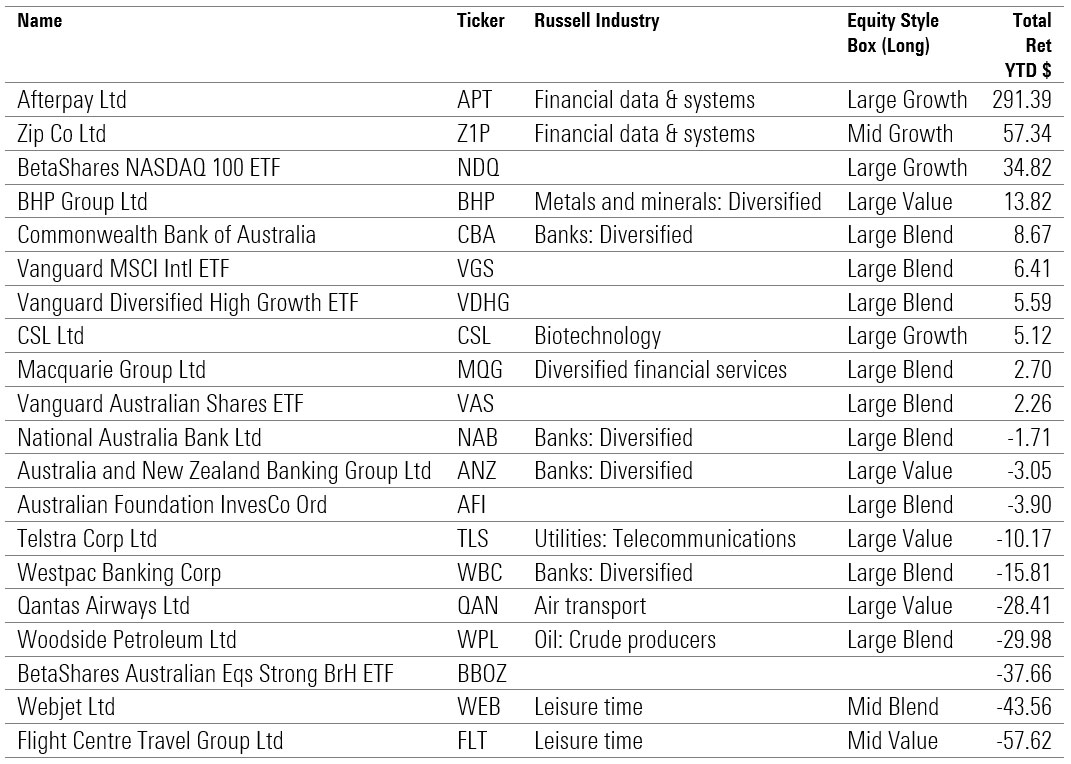 Source: Sharesight, Morningstar
BetaShares Australian Equities Strong Bear Hedge Fund (ASX: BBOZ) also bounded onto the list as investors sought to capitalise on extreme market volatility in March and April, much to the dislike of the regulator. The BBOZ ETF is designed to generate magnified positive returns when the market falls. According to Morningstar data, funds under management for the fund jumped from $200 million in February to $357 million in March, receiving inflows of over $90 million in March 2020.
"Geared ETPs should not be traded by investors who do not have appetite for this risk or understand the complexity," the regulator said while declining to nominate specific products.
"We saw trading volumes for one geared ETP increase by 16 times the normal volume to become the second most traded ETP."
Asset Flows 2020 | BetaShares Australian Equities Strong Bear Hedge Fund (ASX: BBOZ)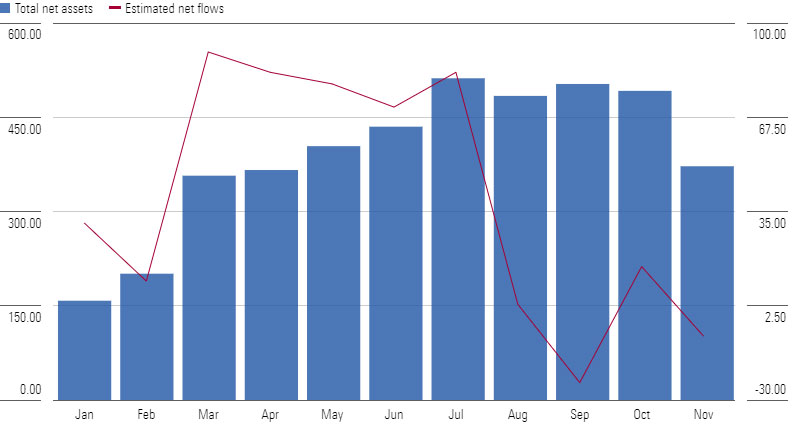 Source: Morningstar
Look no further than returns data for a reason why investors piled into buy now pay later stocks. Afterpay and Zip Co feature as first and third on the list of best performing stocks on the Morningstar Australia index since March 23 lows. Afterpay is set to join the ranks of Australia's largest companies on the back of a record-breaking rally in tech stocks this year. While the S&P/ASX200 Index has rallied 32 per cent off its March lows, the S&P/ASX All Technology Index has rallied about 90 per cent.
Top returns since March 23, Morningstar Australia Index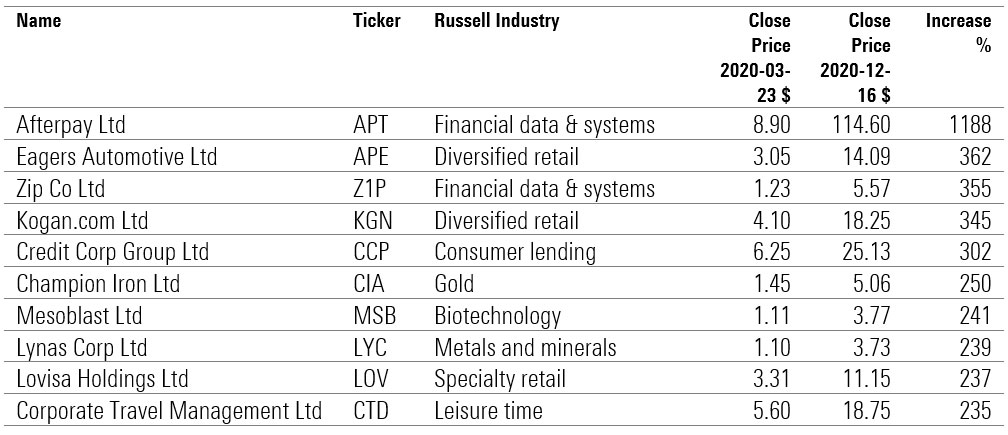 Source: Morningstar
Morningstar equity analyst Shaun Ler says that while Afterpay's earnings prospects are strong, he thinks its margins will increasingly be under pressure, and that it will fail to achieve the same penetration and transaction frequency overseas as it had domestically.
"While it benefits from the growth of e-commerce and increasing preference for more convenient and cheaper forms of financing, we anticipate heightened competition, including more flexible instalments, a 'Pay-Anywhere' model or lower merchant margins," Ler says.
"Improvements in product features are likely to be replicated, leaving price the basis of competition in the long run, given the low barriers to entry and commoditised nature of financing."
Afterpay trades with a 1-star rating at a 210 per cent premium. Zip Co has a 3-star rating following recent price falls.
Morningstar equity analyst Mark Taylor has a 5-star rating on Woodside, noting that "change is in the air".
"Woodside remains unloved by the market, the shares wallowing around $18 while peers like Santos have recovered far more lost ground from oil rout lows," he wrote in October.
"There appears to be disinterest in expansion plans and an assumption oil prices will remain at US$40 levels.
"Our midcycle Brent crude price forecast remains US$60 per barrel and we continue to credit the company building a second Pluto LNG train, the chief difference between our fair value and the share price."
Shares have recovered somewhat this month, trading around $23. Brent is currently about US$51.50.
Appetite for tech
Australian investors remain exposed in the usual suspects – namely the big four banks, major minors (ASX: BHP), Telstra (ASX: TLS) and S&P/ASX tracking ETFs (ASX: VAS)– but 2020-themed stocks have wormed their way on to the list of top holdings.
Zip Co jumped 43 places to 18th most held stock, while Qantas gained 11 places to 17th. BetaShares' NASDAQ 100 ETF (ASX: NDQ), which tracks the performance largest non-financial companies listed the NASDAQ, also proved popular, gaining 19 positions to number 16.
Rio Tinto's (ASX: RIO) destruction of two ancient and sacred rock shelters in the Pilbara region of Western Australia didn't help the miners gain favour with investors. It fell six places to finish 20th. Year to date, the stock is up just over 1 per cent, having gained 25 per cent since the beginning of November.
Several stocks have dropped off the list 2020, including South32 (ASX: S32), Santos (ASX: STO), Fortescue Metals Group (ASX: FMG). Can you see a theme forming? The A2 Milk Company (ASX: A2M) also vanished from the top 20 list this year. A2M has had a difficult year, marked by a sudden-CEO resignation and demand disruptions to its corporate daigou channel during recent lockdowns in Melbourne, which Morningstar director of equity research Adam Fleck says has driven down orders for infant formula that otherwise would have gone to China.
A2M's shares were placed in a trading halt on Thursday, sparking fears of a downgrade of its earnings guidance. Today, stocks fell 23 per cent.
Technology and growth stocks now play a much bigger role in investors portfolios thanks to the addition of Afterpay and Betashares NASDAQ 100. The list also features a mid-growth stock, having added Zip Co. Basic materials and energy have fallen out of favour since 2019.
Shareslight | Top holdings ranking in 2020 vs 2019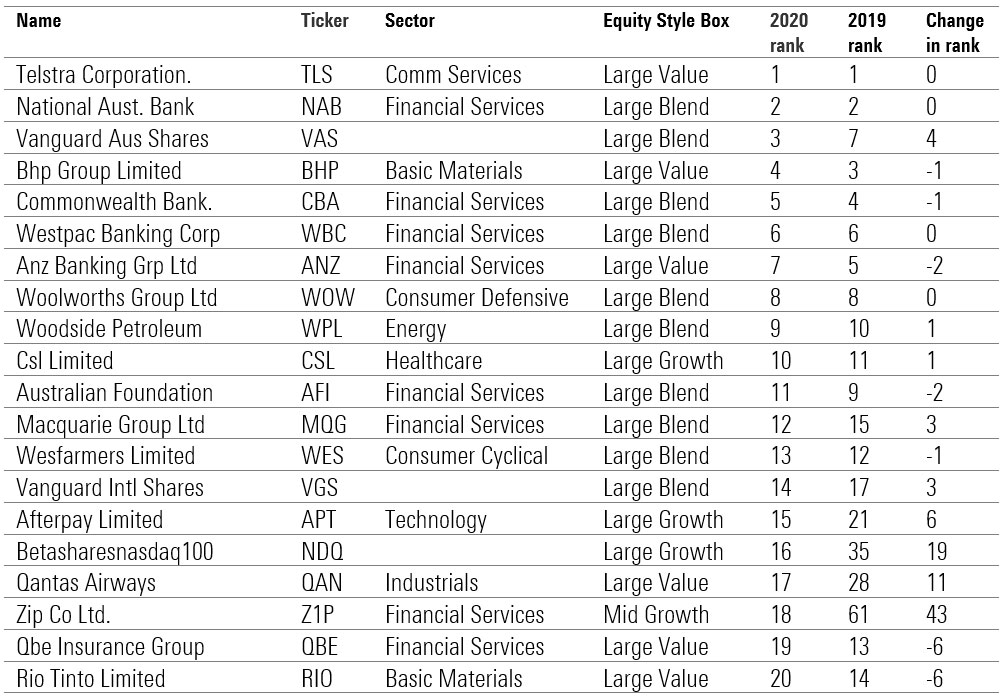 Source: Sharesight, Morningstar