News
Undervalued stocks storm back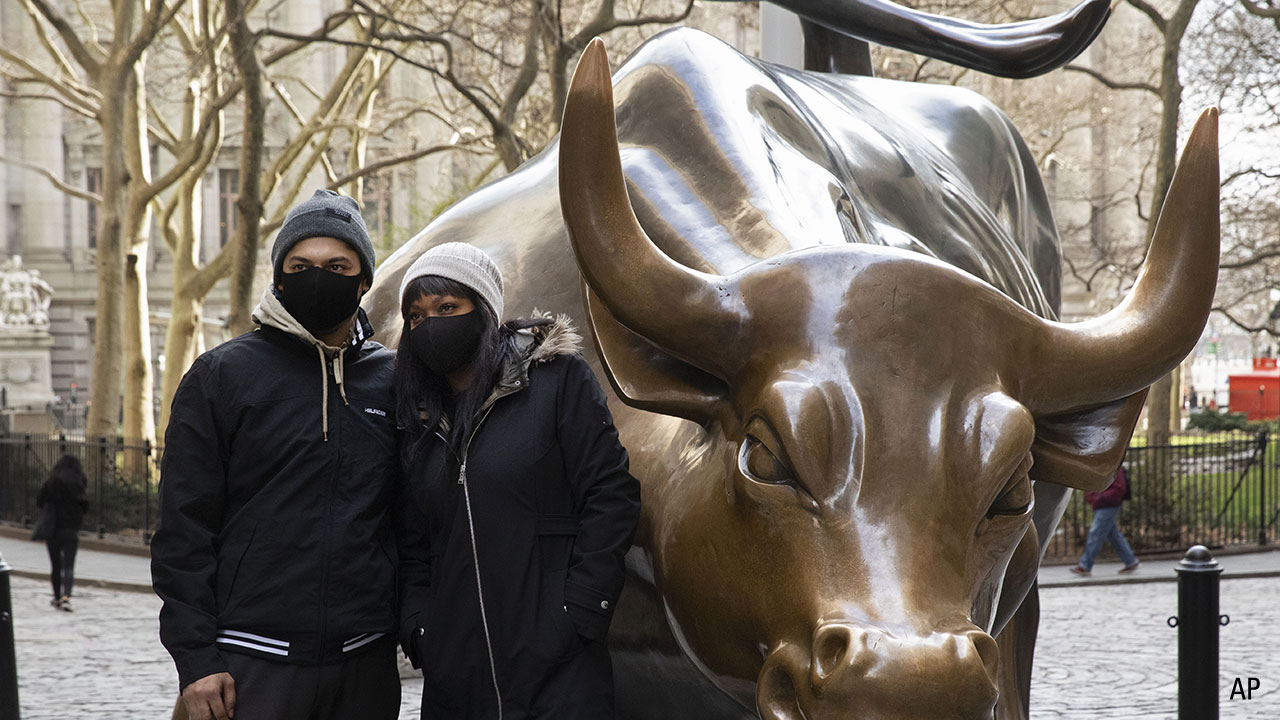 Investors who looked beyond the sea of red and used the coronavirus-induced market crash to invest in hard-hit names were richly rewarded, making returns exceeding the index.
Stocks that Morningstar analysts rated "undervalued" as the market appeared to bottom out on 23 March have surged an average of 36 per cent since, eclipsing the 18 per cent rise in the ASX 200 index over the same period.
This was led by bounces from buy-now pay-later company Afterpay Touch Group (ASX: APT) and department store owner Myer Holdings (ASX: MYR)—both rated as 5 stars on 23 March.
The coronavirus sell-off began on 20 February when the disease was announced as a global pandemic and appeared to hit a floor on 23 March when lockdown restrictions were imposed across Australia, plummeting 36 per cent from its peak.
Morningstar equity analysts viewed the sell-off in global markets as "overstated", placing undervalued—or 4- or 5-star ratings—on more than 100 companies under coverage by month end.
For them, it presented a chance to invest in companies whose shares were hit by uncertainties of the pandemic's impact in the near term, but whose longer-term prospects remain largely intact.
"Markets have been volatile and corrected sharply as COVID-19 spread across the globe," Morningstar director of equity research Johannes Faul wrote in his late-March special report Coronavirus: Market Temperature Check.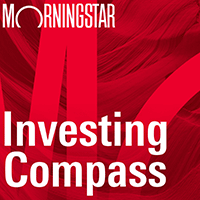 Listen to Morningstar Australia's Investing Compass podcast
Take a deep dive into investing concepts, with practical explanations to help you invest confidently.

"However, we expect the coronavirus pandemic to have minimal long-term economic implications, and we view the severe sell-off in global equities as overstated."
Bounce back of undervalued stocks, from March 23 to May 8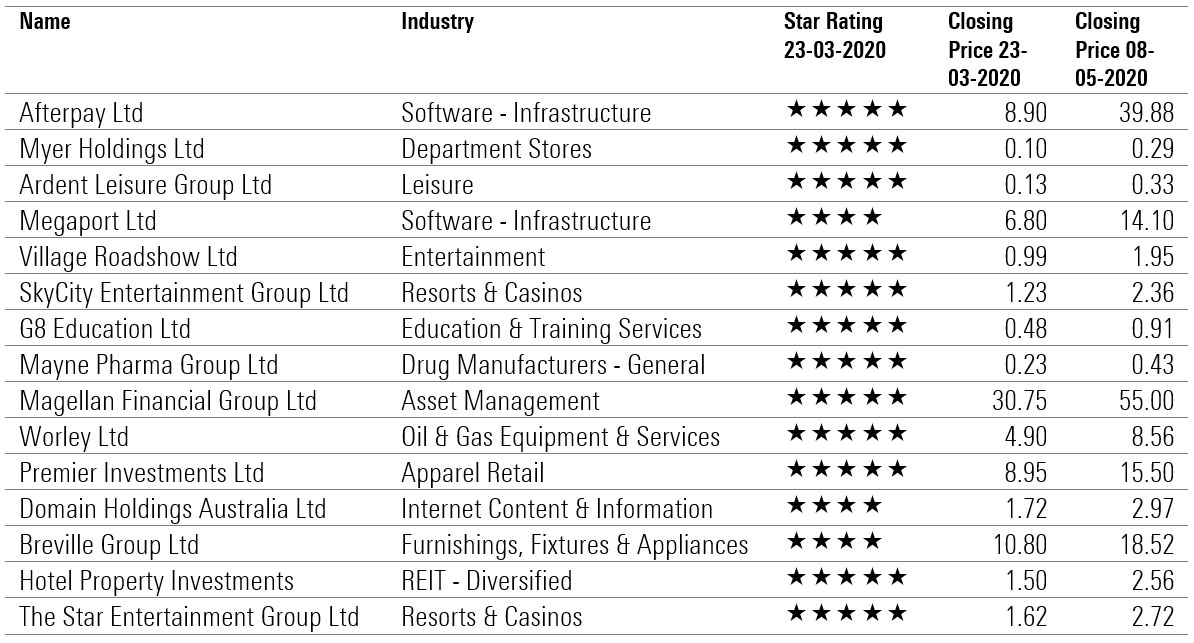 Source: Morningstar Direct
The ASX 200 index stormed back in April, in tandem with the recovery elsewhere around the globe, growing 18 per cent between March lows and May 8. Most of the returns were recorded in late March and early April.
Last month, Morningstar equity analyst Brian Han said he feared investors were succumbing to a fear of missing out. Time will tell. But analysts are warning investors as always to scrutinise the balance sheet health of companies they're invested in before buying shares. There is no guarantee this is the beginning of a concerted rally.
Afterpay: buy now, surge later
While some investors took flight for blue chips in March, others sought value among smaller names in the index. Property portal Domain Holdings Group (ASX: DHG) now appears fairly valued after the share price rose 70 per cent from its late March lows, aided by an $80 million increase in debt facilities last week and waiver of debt covenants for the remainder of 2020. The stock had been undervalued in March, trading well below its $3 fair value estimate at lows of $1.72.
Magellan Financial Group (ASX: MFG) is now similarly fairly valued after experiencing brief March lows of $30.75. Morningstar analysts had a fair value of $52 on the stock throughout March.
Shares in Afterpay have surged over 300 per cent since its March lows, propelled by a positive third quarter sales announcement in April and a new deal with Chinese conglomerate Tencent, which purchased a 5 per cent stake in the business earlier this month.
Morningstar analysts briefly recommended the stock in March when it fell below $13.
History of price vs fair value | Afterpay (ASX: APT)

Source: Morningstar Direct
Myer back online
Myer recorded a 60 per cent share price drop March, reaching lows of 10 cents on 27 March after the retailer announced it would close all its stores and stand down about 10,000 staff without pay.
However, the stock rebounded 45 per cent on Friday on the government's plans to reopen the economy and gradually lift coronavirus restrictions. Since its mid-March lows, the stock was up 172 per cent at today's close of 72 cents.
Morningstar's Faul said there was a lot to fear about Myer, even before the current economic crisis. Balance sheet woes were at the top of its shareholders' minds, with some fearing that the company could go into administration. However, Faul said the sell-off was overblown, valuing Myer at 60 cents in early April. He says the company continues to hold appeal for investors who can stomach the risk.
"Before the crisis escalated in March 2020,many of Myer's operating metrics were improving, including a widening of the gap to its fixed-charge coverage ratio covenant," he said.
"We contend, both the banks, but perhaps more so the landlords, would prefer Myer to remain in business than collapse.
"The wage piece of the puzzle has been falling into place with the Australian government's $130 billion JobKeeper package, which we expect to essentially underwrite Myer's wage bill for the next six months."
Myer reported a surge in online sales in mid-April, prompting it to bring back more than 2000 of its staff to assist with fulfilment.