News
Long-term investing: The destination is better than the journey
Page 1 of 2
Peter Gee is a research products manager at Morningstar.
The old adage "time in the market, not timing the market" is often used in discussion papers like this one, but with good reason--it often holds true.
One of the key elements to successful investing is patience. It is important to remember that a long-term mindset is required to achieve investment goals.
Returns in the short term can be unpredictable and volatile, so investing with a short-term focus produces many difficulties and can be counterproductive.
It is easy to be fixated on the daily market movements and become distracted from long-term investment goals. More often than not it is better to take a step back and allow investments to grow steadily over time.
To highlight the merits of having a long-term perspective, we will take a closer look at the behaviour of short-term performance relative to long-term performance. More specifically, we will assess the historical returns after fees and tax of a "balanced" superannuation strategy.
Market News and Views
Sign up today and receive our free Morning Note e-newsletter, daily in your inbox.
We examine the returns over three distinct time intervals: rolling one-month; rolling one-year; and rolling 10-years.
Exhibit 1 shows the rolling one-month returns or the portfolio's individual month-to-month performance. The green bars above the x-axis represent positive performance and a gain in the portfolio's value. A red bar below the x-axis represents negative performance and a loss in the portfolio's value.
Exhibit 1: Rolling One-Month Returns (September 1995 – August 2015) of a Balanced Superannuation Portfolio
---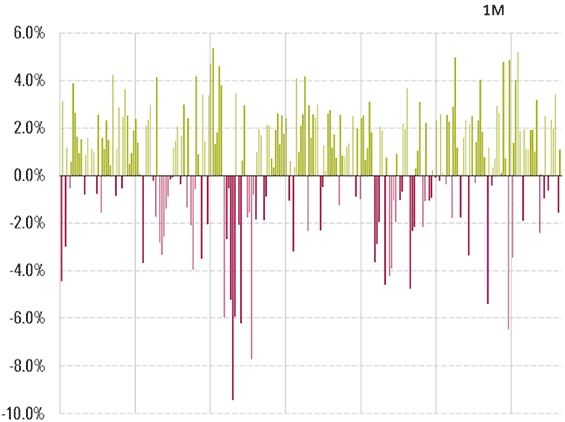 ---
Source: Morningstar Direct