News
Best performing stocks for FY 2021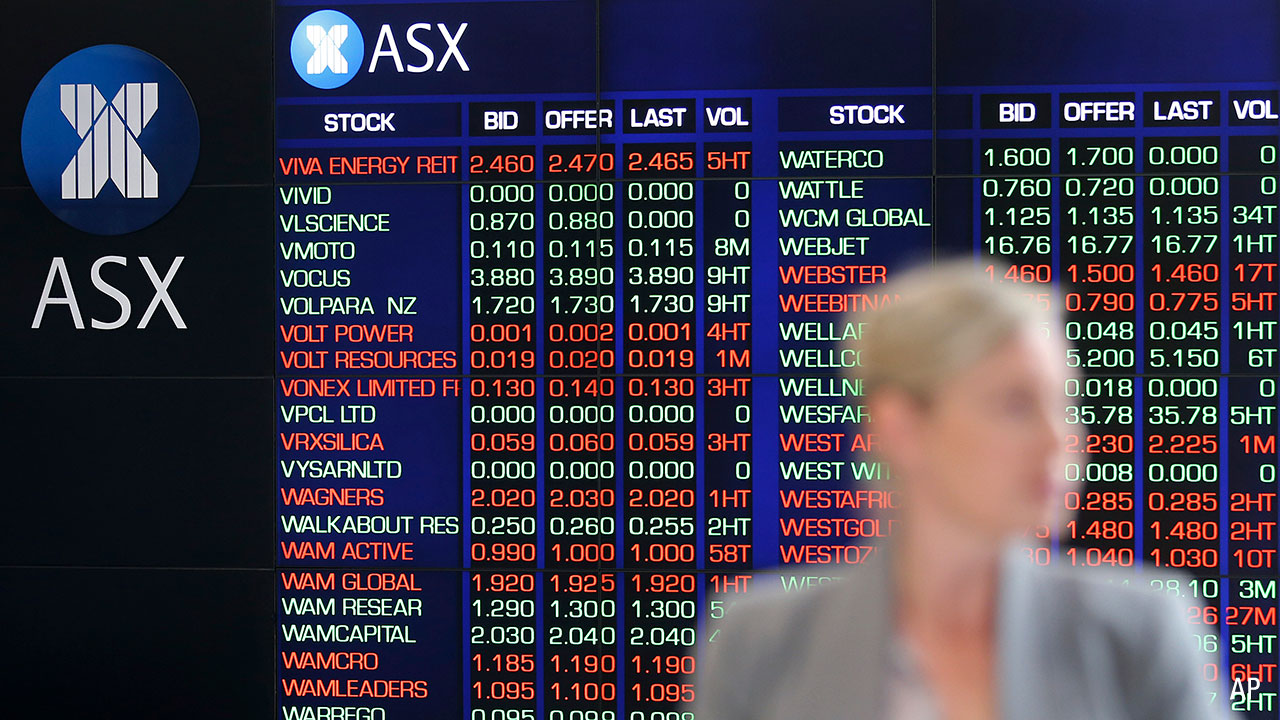 Few could have predicted the Aussie share market would return 24 per cent in a world where the word "mask" is more popular than the word "beer".
But another financial year has come and gone and equity markets everywhere are rebounding from the lows of the pandemic.
We've looked through the data and put together nine charts that tell the year's story as well as its best and worst performers.
Google searches for the words "beer" and "mask"(July 2018 to June 2021)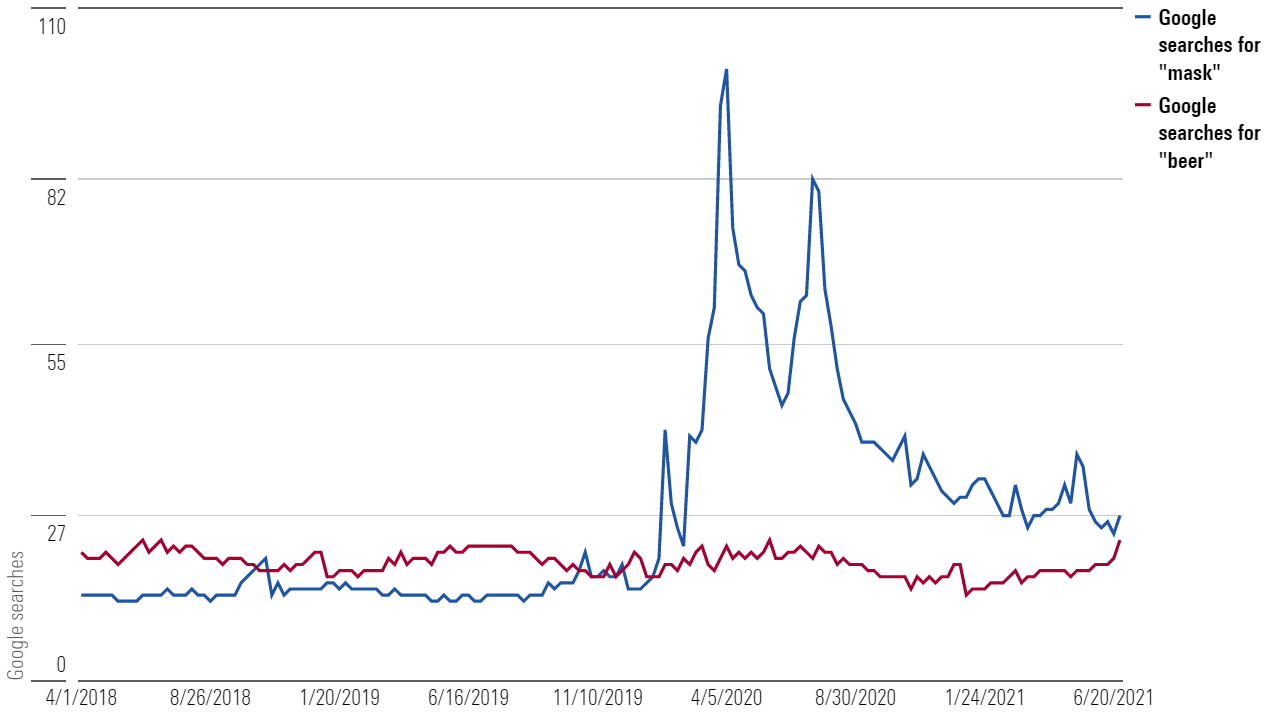 Source: Google Trends
Australian equities are up but the US still leads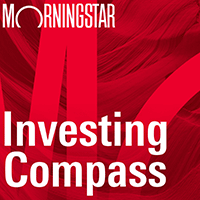 Listen to Morningstar Australia's Investing Compass podcast
Take a deep dive into investing concepts, with practical explanations to help you invest confidently.

The S&P/ASX 200 returned 24 per cent this financial year, 27.8 if dividends are included.

Source: Morningstar Market Monitoring
This financial year's return is almost five times larger the 3-year annualised return for the index.
S&P 500 and ASX 200 returns (1-Yr / 3-Yr)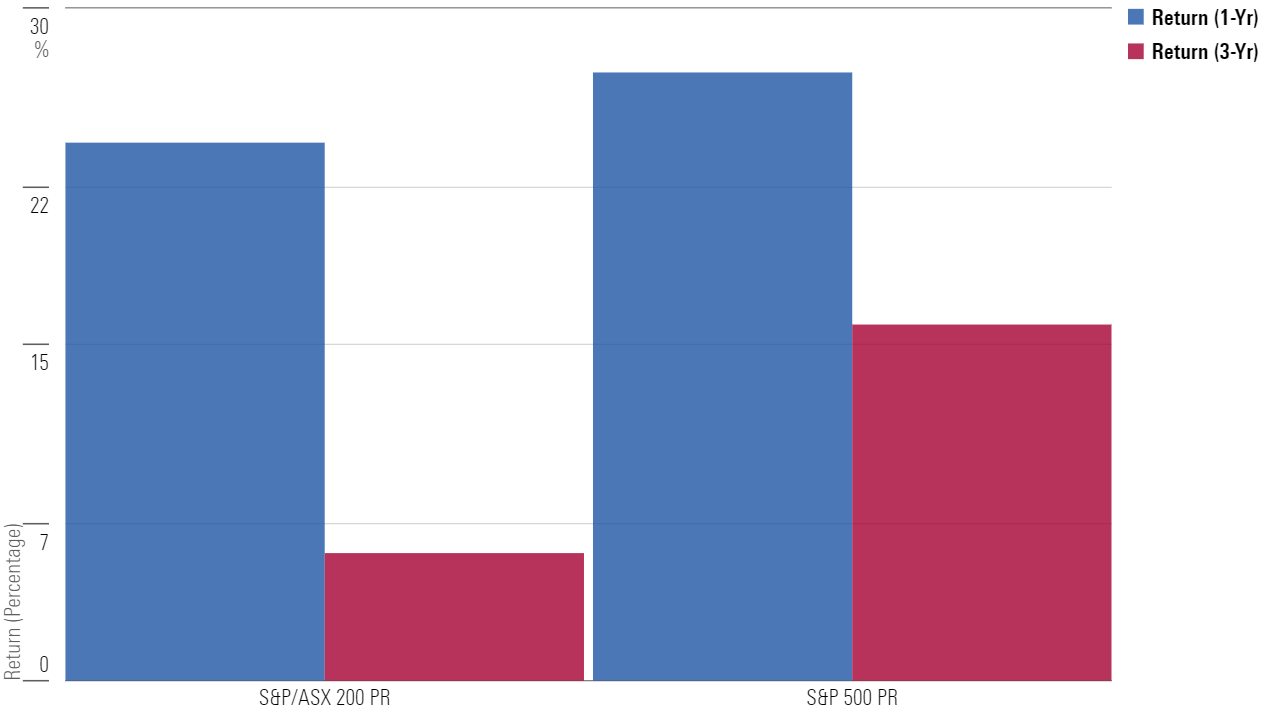 Source: Morningstar Direct. Price returns for the ASX 200 and the S&P 500.
People in lockdown buy lots of stuff (including houses)
The consumer discretionary, financial, and industrial sectors soared as the economy reopened and people spent lockdown savings on everything from breadmakers to new houses.
The ASX 200 Financials sector return this year is roughly 23 times the 3-year average, and 15 times the 5-year average.
Energy has finally had some good news and the 5-year annualised return is almost back at zero.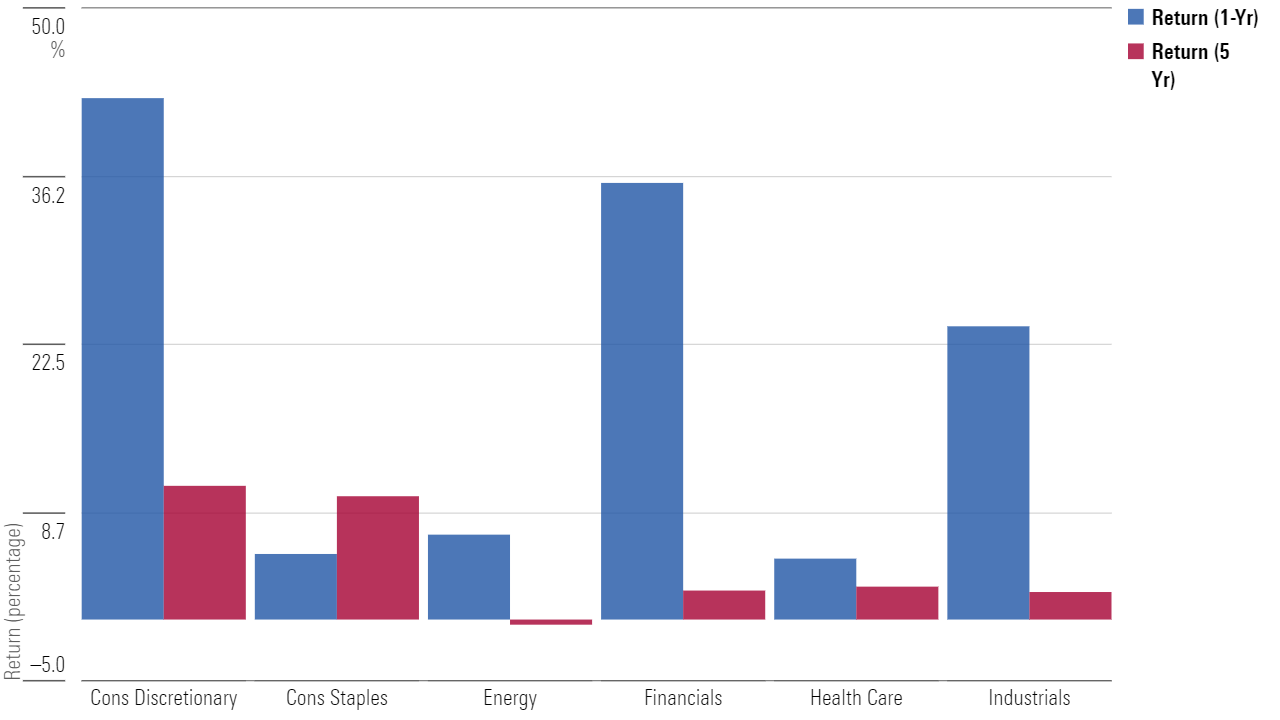 Source: Morningstar Direct. Sectoral performance on the ASX 200.
The top winners and losers
For individual stock performance we use the Morningstar Australia Index, which measures the performance of Australia's equity markets, targeting the top 97% of stocks by market capitalization.
Well-known names such as Appen (ASX: APX), AGL (ASX: AGL), AMP (ASX: AMP) and TPG (ASX: TPG) all earnt a wooden spoon this year.
Several small miners struck gold. Lithium miner Pilbara Minerals (ASX: PLS) was carried to a stomping 522.6 per cent return on a wave of enthusiasm for electric vehicles and batteries.
The top 10 and bottom 10 performers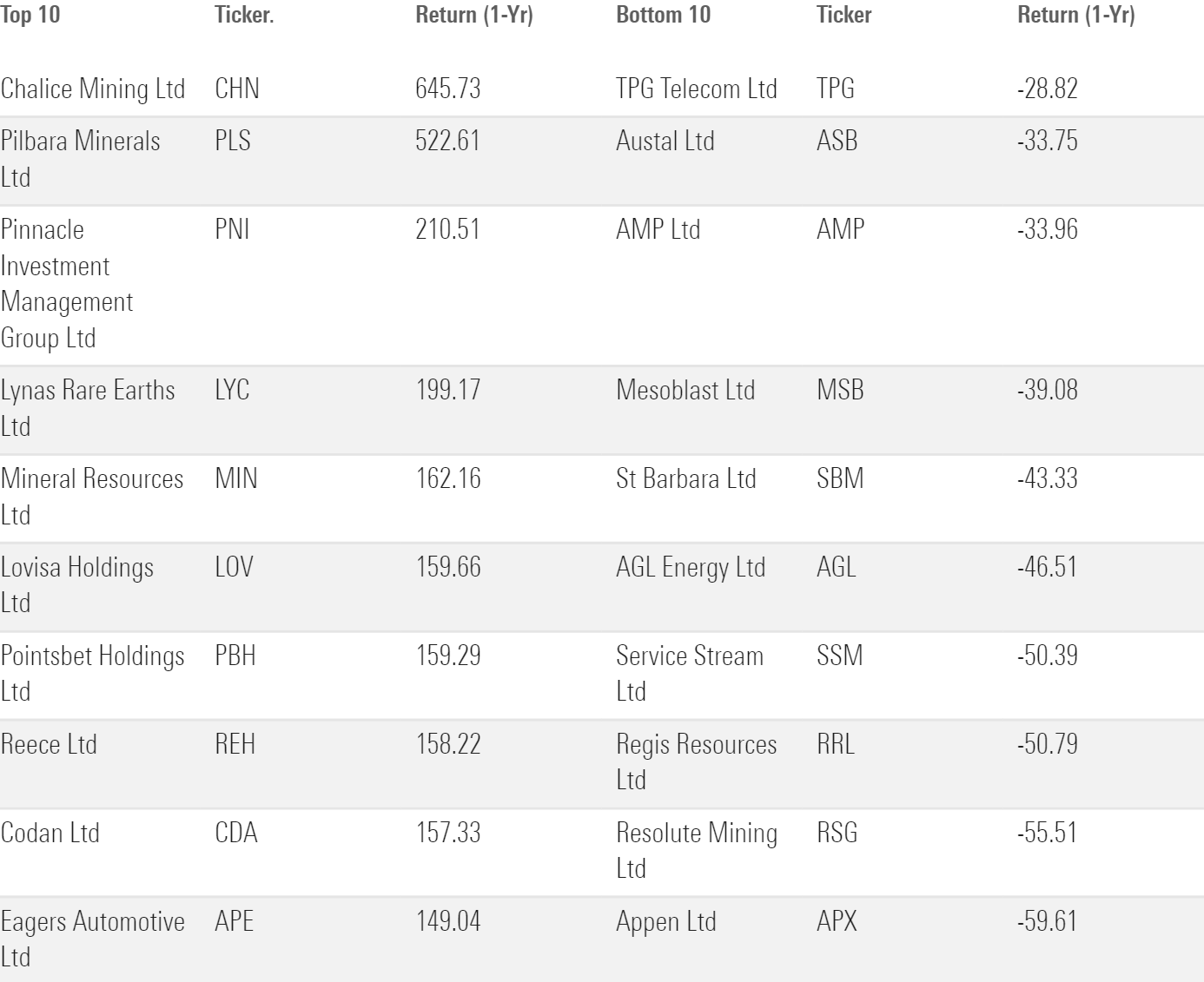 Source: Morningstar Direct
Australia's equity market giants have mostly had a great year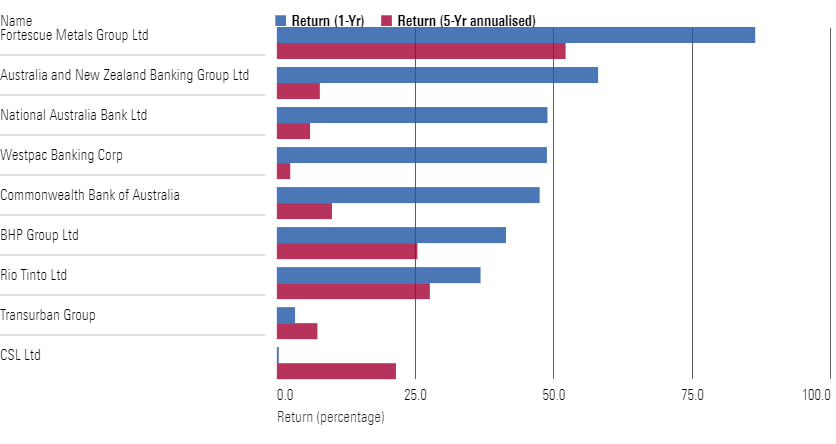 Source: Morningstar Direct, Top 10 firms by market capitalization, return (1-Yr) and return (5-Yr)
But is the tide turning for the booming consumer discretionary sector?
The top ten performers in the consumer discretionary sector (1-Yr vs. YTD)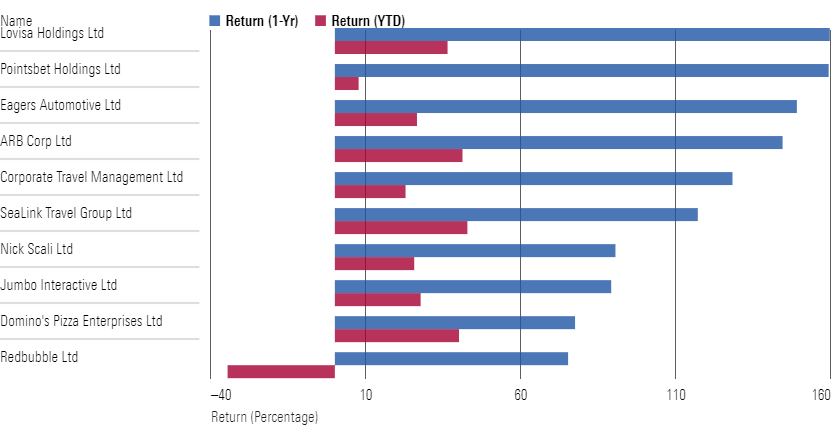 Source: Morningstar Direct. 1-Yr and YTD returns for the year's top 10 performers in the consumer discretionary sector.
Still, only one of the 31 companies listed as consumer discretionary is down for the year – Kogan (ASX: KGN), which has fallen 19.33 per cent.
Some big names are sitting at big valuations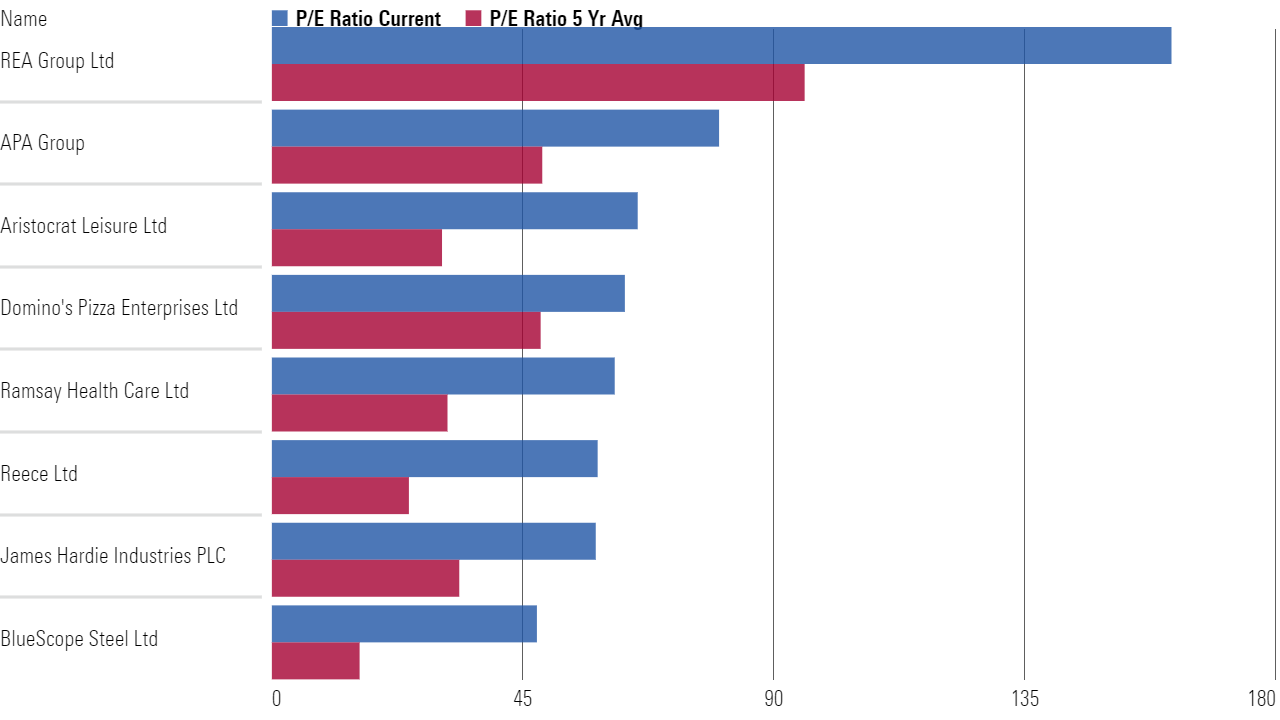 Source: Morningstar Direct, firms with a market cap over $10 billion and a current P/E over 45.
And finally, a reminder that it's hard to repeat a winning performance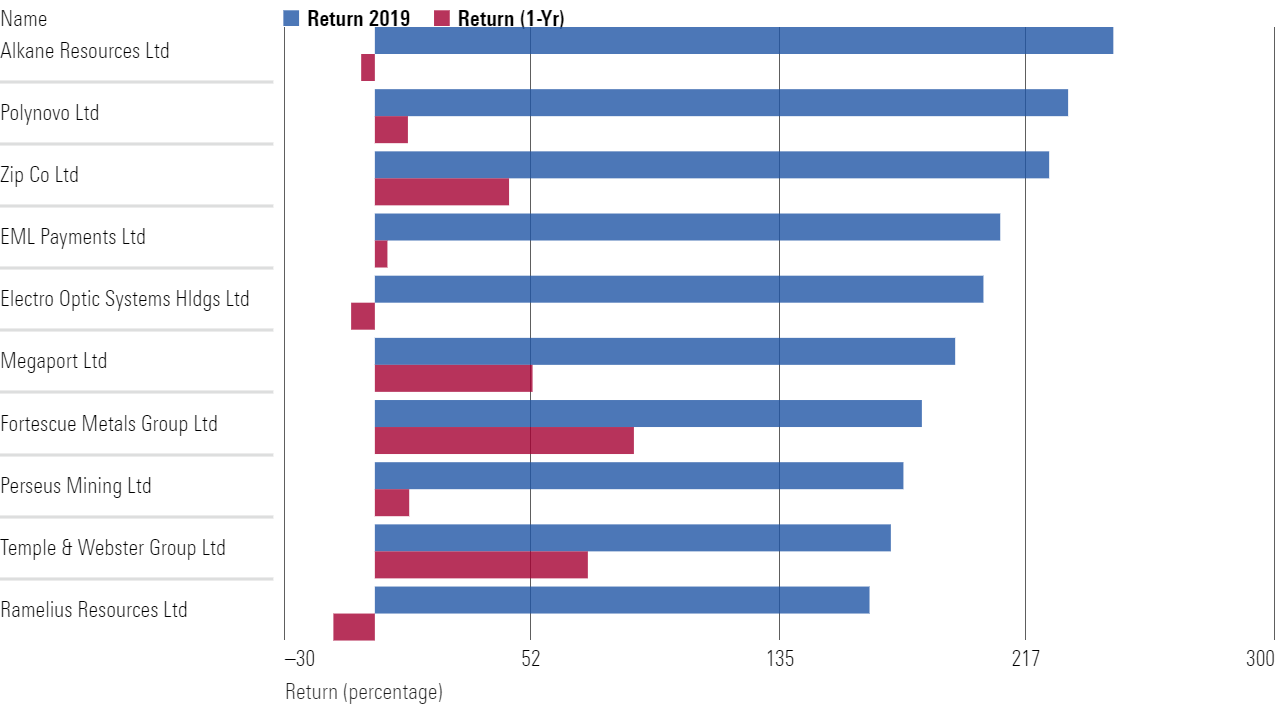 Source: Morningstar Direct. Top 10 performing stocks in 2019 and their returns for financial year 2020-2021.