News
Beware the US ETF market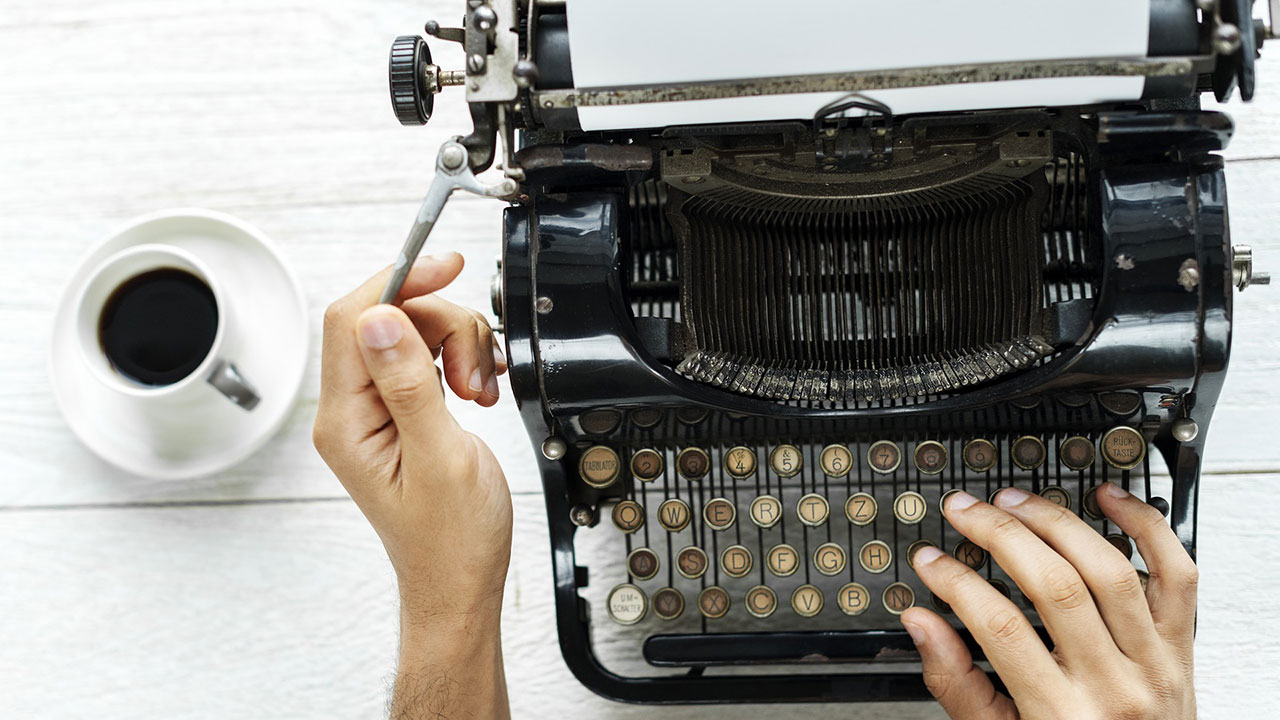 If you're thinking now's the time to buy into an exchange-traded fund that tracks the S&P 500—America's top 500 companies—be very careful. That was the word of caution from Peter Warnes in response to a viewer question during a Morningstar investor webinar yesterday.
For argument's sake, let's take the iShares S&P 500 ETF (ASX: IVV). It's a good cheap option, Morningstar analysts say, which will get you access to, among others, the FAANGs, the tech giants that are powering the market: Facebook, Amazon, Apple, Netflix and Alphabet (formerly known as Google). For the year to date, the FAANG stocks have returned a gross capital gain of 220.21 per cent. IVV, rated silver by Morningstar, has risen by over 20 per cent since the bottom of the covid sell-off on 23 March.
However, Warnes argues the market is naively expecting that it will continue its climb, shrugging off the covid woes, the depreciating US currency, and the uncertainty around the US election—which was stunningly heightened yesterday with news Donald Trump is carrying covid. Warnes' chief point is that the tech giants are leading the charge but have no one to back them up. Which raises that fear, he says, that if this "phalanx of FAANGs" stalls then the also-rans could too.
"I'd be very careful doing anything in terms of an ETF," Warnes said. "The leadership in the US market is the narrowest I've ever seen it. I don't know what would happen to that market if the FAANGs rolled. And since coronavirus knocked on our doors, seven or eight months ago, the demand pull has been extraordinary in those particular stocks.
"But how much more streaming can you do? How much more Netflixing can you do? How much more Facebooking? When these things normalise—and they will—anyone extrapolating from these current levels should go straight to the doctor and say, 'I want to be put in a madhouse' because this is not going to continue at this rate of growth forever. But that's what they're extrapolating. It's very dangerous."
And Warnes is not alone in worrying. Australia's best known fund manager, Magellan's Hamish Douglass, who will be speaking at the upcoming Morningstar Individual Investor Conference at the end of the month, says that while no one can say where the market will go, if another covid wave strikes a 50 per cent fall is possible.
iShares S&P 500 ETF (IVV) - 1YR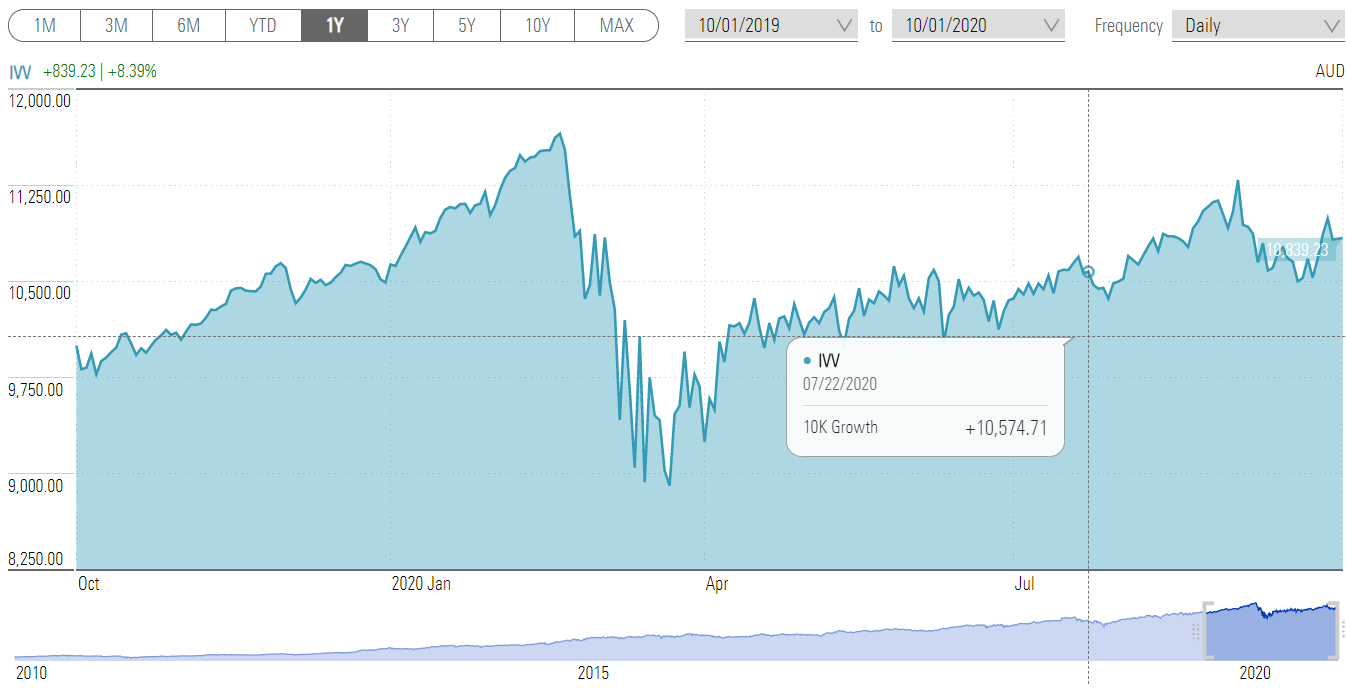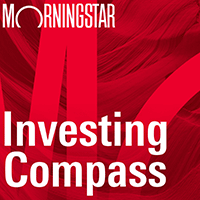 Listen to Morningstar Australia's Investing Compass podcast
Take a deep dive into investing concepts, with practical explanations to help you invest confidently.

Source: Morningstar Premium
In Firstlinks this week, Graham Hand extends the discussion around the money going into exchange-traded products. The biggest change in asset allocation by Australian investors in recent years has been the move into global equities, Hand reports. It is now by far the largest asset segment at $29 billion in the $70 billion ETF (or ETP) industry.
"For two decades between 1995 and 2015, Australian shares held their own against the US, which with the added benefit of franking credits, encouraged a home country bias. But since 2015, the decline of our banks and previous stalwarts such as Telstra and AMP left the heavy lifting to CSL and the miners. Showing it is a US story rather than the rest of the world, Australia remains well ahead of laggards in Europe and Emerging Markets."
Hand also hears from Roger Montgomery on the disconnect between the stock market and the economy. Montgomery explains why we are in one of those times where a strong case can be made for both the market rising and the market falling.
One person who can relate to that and more is Claudia Huntington. After almost five decades in investing, the portfolio manager at Capital Group is stepping away. In this Firstlinks feature, she shares some of the lessons she has learned.
Elsewhere, we teach you how to get rich slowly, with a little help from Morningstar personal finance director Christine Benz.
Mark Lamonica chimes in with the second instalment of his look at achieving your investing goals. He's taught you to calculate your required rate of return, now here's how to pick the right mix of assets.
Susan Dziubinski surveys several Morningstar analysts to select 24 stocks for 2030. The list comprises companies Morningstar argues are well positioned to benefit from one of five key trends during the next decade.
Among the trends is electric vehicles and Anthony Fensom unearths the Aussie miners that may benefit. Fensom also looks at responsible investing and the rise of the "green bond".
The pandemic has highlighted innovation in healthcare, particularly telemedicine. We talk to American Century Investments portfolio manager Michael Li to discuss which companies are benefiting.
And finally, we look at two new companies coming to market. Morningstar equity analyst Mark Cash peers into the world of data analytics disrupter Palantir, while James Gard examines another big listing, that of Ant Financial.
Morningstar's Global Best Ideas list is out now. Morningstar Premium subscribers can view the list here.